Date: 20/8/2023
Trip leader: Bruce Stafford
Party: Alex (Qinyuan), Angelique, Astrik, Diego, Dong, Elise, Elodie, Esther, Kenza, Margot, Millicent, Shibo, Verity, Zoe

Katoomba to Leura via Prince Henry Cliff track. Sunday 20/8/2023
This promised to be a great day out in near perfect winter weather, and 17 had signed up. As usual I had to catch a must earlier train from my Central Coast station and thus had a view of Jupiter shining in the pre-dawn sky (see photo). A Powerful Owl ( Ninox strenua ) called out to me.
At Strathfield I met up with Shibo, the ony other member getting the train there. All the other participants caught the train at Central OK, and we all settled in for the almost exactly (as it turned out) 2 hour ride to Katoomba. I texted one of the group of 9 French exchange students who had signed up, and it turned out that they were by chance in the same carriage as Shibo and me! As the train approached the grounds of Western Sydney Uni at Werrington I texted them to watch out for kangaroos in the uni grounds; they were very pleased and excited when they saw some.
The train left Central 7 minutes late and had not make up time as it arrived at Katoomba 8 minutes late. It was also further delayed getting into Katoomba station by needing to stop to allow a diesel loco hauling an empty set of the new "state of the art" Intercity trains to pass through. These new trains were meant to replace the silver V sets, such as the train we were in, over 3 years ago ("State of the art" is Transport for NSW's term for the new trains, not mine). I won't terrify you with the sorry saga of these new trains; I will leave it for you to read here: https://nswtrains.fandom.com/wiki/NSW_TrainLink_D_Set One of the more hated features of these new trains is their non-reversible seats, reversing (pun intended) a decision by NSW since the 1870s to adopt North American practice as more suitable for passengers in our large country than English practice. They have been a public relations disaster for NSW Trains. But I digress.
Anyway, the late arrival meant that, with the promised toilet (not "bathroom") break at the railway sytation, we missed the first and second next buses to Prince Henry Walk, but all of our 15 members got on the third bus OK. To make this walk a bit longer than the same walk I lead in June (but in reverse) we got off the bus at the eastern end of the Katoomba Skyway (part of Scenic World) instead of at Echo Point. That gave us an extra 30 minutes of walking along Prince Henry Walk from there to Echo Point. This section has great views without the crowds of tourists, including an excellent view of The Three Sisters pagoda formation (see photo). After passing through Echo Point, we continued along the track to the Three Sisters, but turned off before getting to them to start the walk along Prince Henry Cliff Track towards Leura.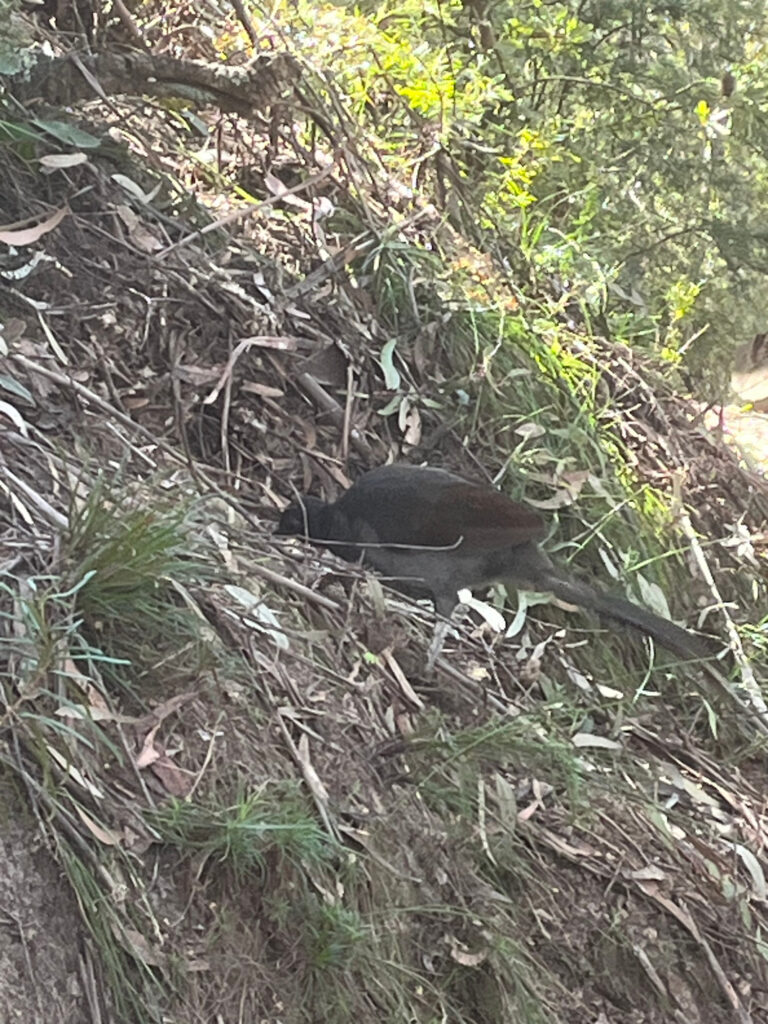 Up to now the group had been enjoying nice smooth concrete tourist tracks, but the real dirt bush tracks were now starting. We hadn't gone too far when we came across a Lyrebird scratching beside the track. It didn't seem too concerned with our presence and just moved a few metres into the bush on our approach and kept scratching the ground. A couple of our members were disappointed that it didn't do any of its various mimicry songs, or any song at all. Anyway we continued along the track until reaching a side track to a lookout where we had "morning tea" and I handed out Lamingtons, that unique Australian snack. We ended up coming out at Cliff Drive Roadway a bit earlier than I expected (a slight navigation error) but all it meant was an extra 200m road bash instead of the normal 50 metres where the track again continued off the roadway and into the bush. Close to this point is the start of a loop track to Federal Pass which eventually comes back up near Leura Cascades, but I decided that it was too early in the overseas students' bushwalking experience to be introduced to leeches! So that track got a miss – for now. From here the track got more challenging with some steeper steps and some damp and slightly muddy sections. We continued along until reaching the side track to Bridal Veil Lookout, where we turned off to have lunch there. Bridal Veil lookout also provided yet more great views over the Jamison Valley.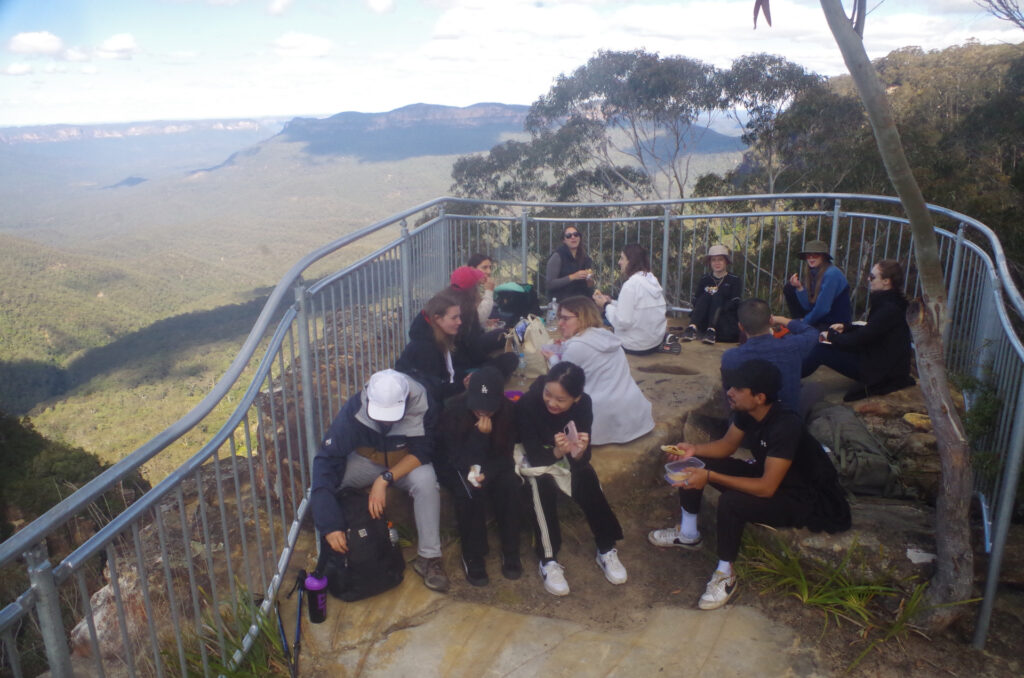 After lunch we continued along the track until reaching Leura Cascades, and unfortunately the bridge linking to the best view spot is still closed. The track runs beside Leura Creek for a short distance before arriving at a junction to turn right for the final section to Gordon Falls Reserve. Again there were some damp sections until reaching Tarpeian Rock, our final lookout spot. After a short break there the track has to be bypassed due to track repair after a landslide, and soon we found ourselves at Cliff Drive again (blocked to cars here but not to walkers), then onto Olympian Parade to Gordon Falls Reserve, where we had a welcome break and also a toilet (not "bathroom") break for some.
There was one final short bush track still left, and that was through Lone Pine Peace Park (formerly War Memorial Park). We entered it off Lone Pine Avenue, and had a brief stop at the Lone Pine (planted there in 1919 as a memorial) and greeted by a friendly fluffy dog. We then continued along the track (actually a service trail normally closed to vehicles), and came to its junction with the Lyrebird Dell walking track. To my surprise it was open, after having been closed for nearly two years for repairs! It's a pity I didn't know earlier that it was now open as we could have used it to get to this point From Gorden Falls Reserve via Pool of Siloam. I spoke to a local on the track who said it had been opened two weeks ago. Anyway the repairs look good and the tiles laid there on Armistice Day in 1918 are preserved (and that tells you how old the track is). We went down to the pool and the little waterfall at Lyrebird Dell; couldn't see any yabbies in the pool but they are probably there (and that gave me the opportunity to introduce the overseas students to another Australian word).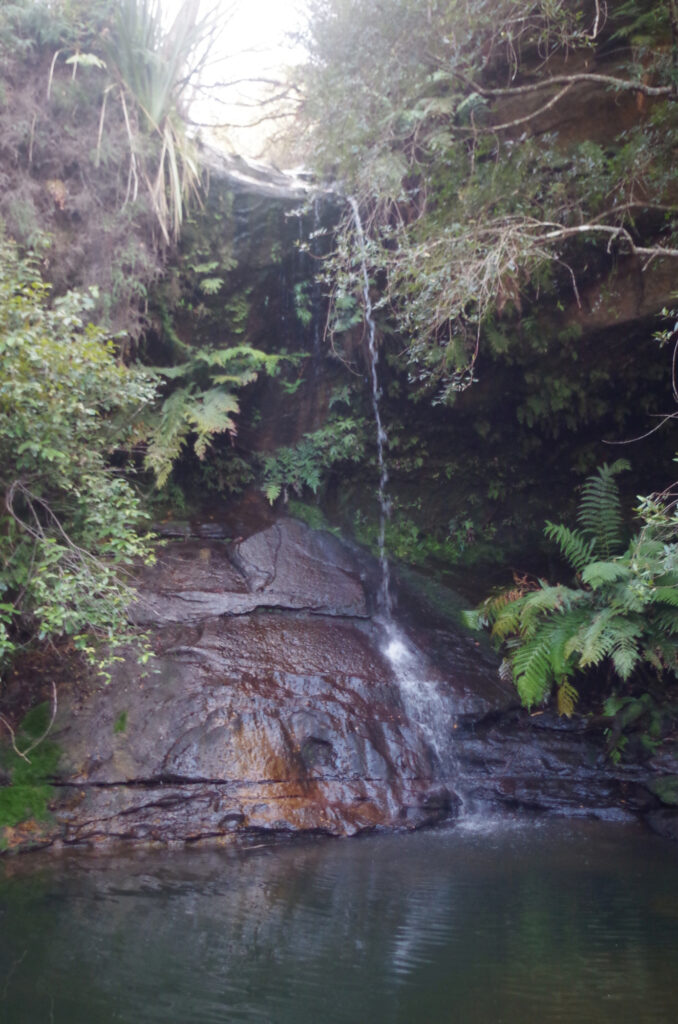 We returned back up to the service trail and then for a final group photo at the War Memorial gates there. Then to Leura Mall via Malvern Road. A brief stop by the French students was made at a Real Estate office's window to check the prices of local houses for sale ($1 million plus) and then to the Wyzegoose Cafe on Leura Mall. I suspected that the French students would likely enjoy a coffee break, so they decided to have coffee and catch a train 40 minutes later at Leura. Verity, Dongzie, Shibo, Esther and Alex opted to catch an earlier train from Leura which was due out in 15 minutes. So we said our goodbyes and the remaining 10 went in for a coffee. The service was quite quick and a couple of the students got some cake and caramel slice as well. I was asked if I knew any more Australian expressions, and I mentioned "Flat out like a lizard drinking", a response when a lazy person says they are working flat out. There was also "drongo" (a fool or an idiot), and I explained what "thong" really means in Australian English (although the French also have "la tong" for the same footwear, a feminine noun, you will notice). Earlier in the walk I had explained "chook" (chicken), and "dunny" (pit toilet found in national parks an remore farms).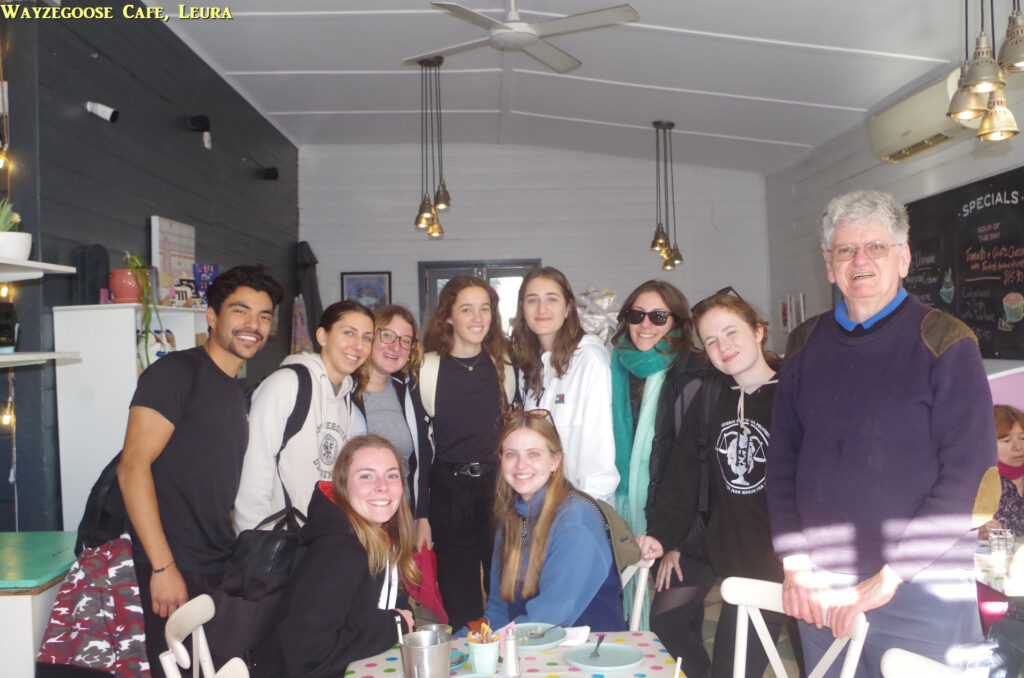 After coffee we headed to Leura Station for the train. On the way back we again saw more kangaroos in the grounds of Western Sydney Uni. On arrival at central we parted ways, and everyone seemed to enjoy the walk. I promised to put on a beach walk or two when the weather warms up in a few weeks time.
One person called in sick very early on Sunday morning, but there were two complete "no shows" who have yet to contact me.
Bruce Stafford.