Date: 15/6/2023
Trip leader: Vyom Arya
Party: Angie, Daria, Deffy, Emily, Joyce, Keyan, Lily, Lishan, Mabelyn, Millie, Ning, Raphael, Salome, Samina, Sky, Thomas, Yunci, Zehao, Zhenhui

This was my first time leading a trip! 14 people met at the meeting point in Central Station, unfortunately with two no shows. I assume this is expected for a trip of this size and considered it lucky that there were only two. Two people brought guests as well, one without notice, but luckily I had already printed out the guest waiver so it was alright. But for next time, if you're bringing a guest, please let the trip leader know! Also, two people had their emergency contact numbers as each other, so I had to ask them to provide another number just in case. Our 10:23 South Coast Intercity to Kiama departed on time, with two people joining on the way at Redfern and another two at Hurstville, bringing us to 18 people. Another person messaged me and let me know that she had missed the train and would be taking another an hour later to catch up with us.
Two hours later, we reached Kiama station where we stopped for a bathroom break (which took a bit longer than it should have due to the size of the toilets), and promptly made our way towards the coast track. The walk in total is about 9 km, for which I had set aside 5 hours (including a lunch break), which I felt was a very generous amount of time. This ended up being just enough time, as the whole pace of the walk was relaxed and people were stopping for photos (which was fine by me for this kind of trip, as it was meant to be chill, but I see how this could be an issue on a more serious walk). We started from the area around Kiama Surf Beach and made our way around the headland to the Kiama Lighthouse. Samina spotted some pink cockatoos on the way, which I learned were called Galahs. We were having great weather, and the whole group was enjoying the scenery and looking out for whales, which was one of the selling points of this trip.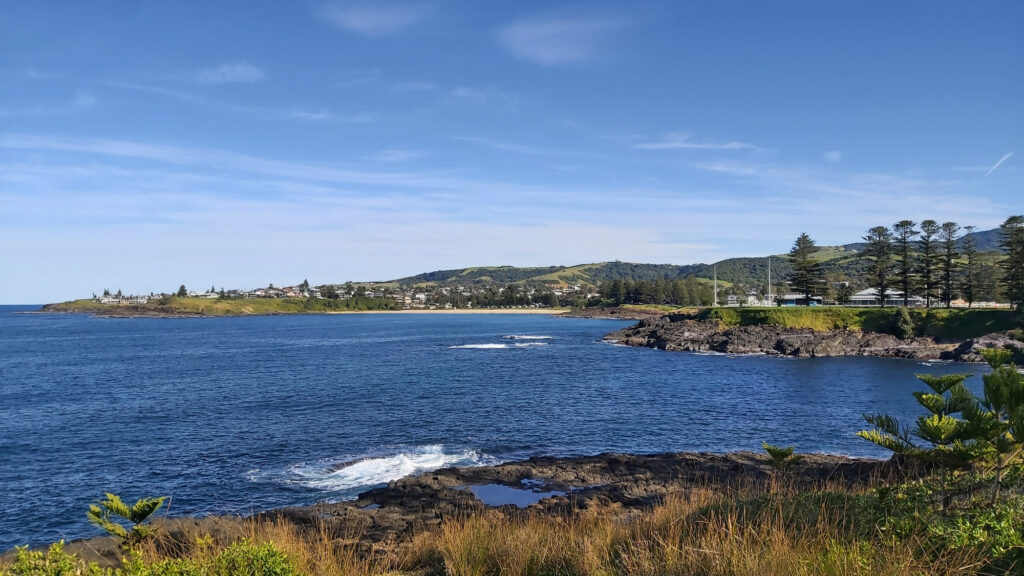 We then made it to Kiama Blowhole, which is apparently the world's largest. On the day the sea swell was not bad (ideally it should be from the southeast), so after waiting for a few minutes we were able to catch it in action. Due to the angle of the sun, the water created a rainbow as well, which was the cherry on top! We spent a few more minutes walking around the headland and looking at the rock formations from cooled lava, before heading back to Kiama's town centre to grab lunch. It was almost 2:00 pm by this point, which was longer than I had anticipated. Mabelyn joined us here after reaching Kiama on the next train.
We met back by 3:00 pm, and continued towards Bombo Beach. We walked along the length of Bombo Beach at a leisurely pace. Upon reaching the end however, someone had lost their phone on the beach! She and two others went back to look for the phone (which is why they aren't in the group picture, unfortunately), and assured us to carry on as they had been here before and could take the train back from Bombo Station.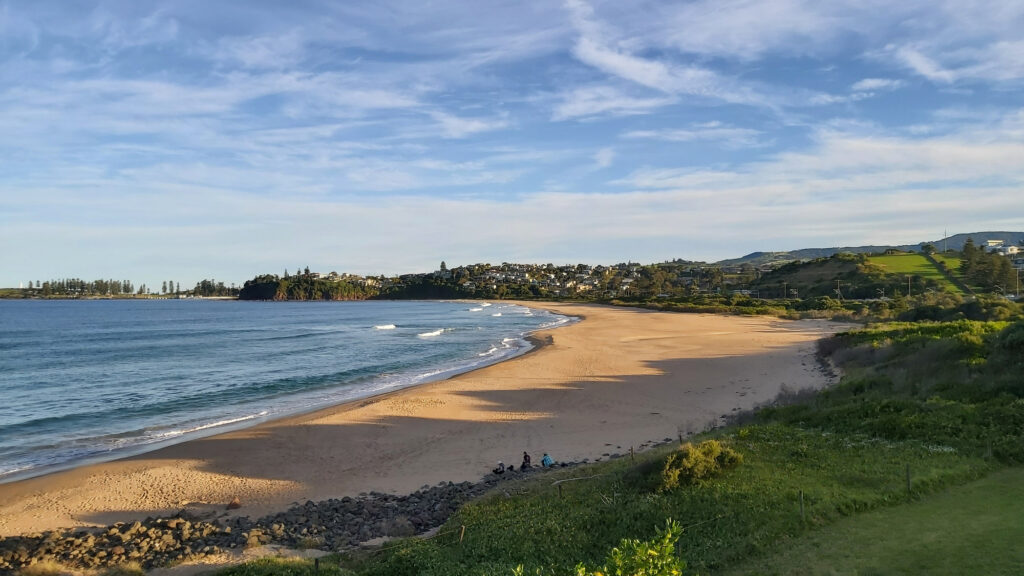 Skipping the Bombo Headland itself, we continued towards Jones Beach, stopping at Cathedral Rock along the way, which is an interesting geological rock formation created by volcanic activity. Reaching Jones Beach itself, the group decided that they preferred to walk along the street instead of the beach. This section is the least interesting bit of the walk, and so we carried on towards Minamurra Lookout. At the Minamurra Headlands (is that what its called?) there is a whale watching platform. Unfortunately, however, we only saw a splash from a whale pod once during the trip, and it was quite far away. It was a 20 minute walk to the station from here and our train was leaving in 20, so we did not have time to enjoy the view much, but we did take a group photo there. In my opinion this is probably the most scenic part of the whole walk, especially since due to our timing we were there at sunset (the golden hour for photography).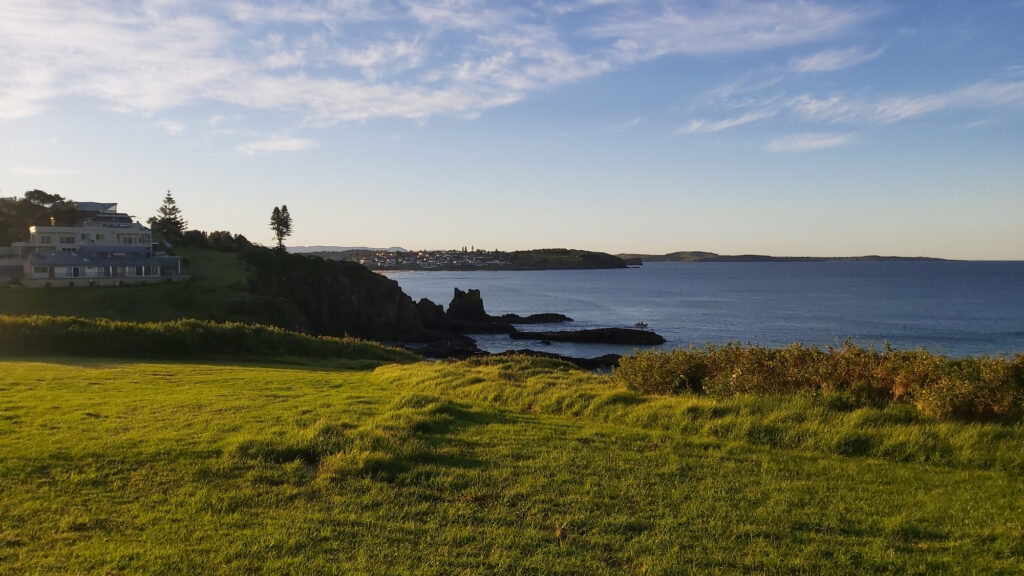 Because of the time constraint, we hurried down to Minamurra Station to catch the 5:02 pm train back home, as missing that would mean waiting at an empty station in the cold for an hour or so. The temperature really drops when the sun goes down, I was walking in a short sleeves shirt while the sun was out, but after sunset I and most of the group put on our thicker jackets. From there, it was another two hour train ride back to Central, which happened without a hitch.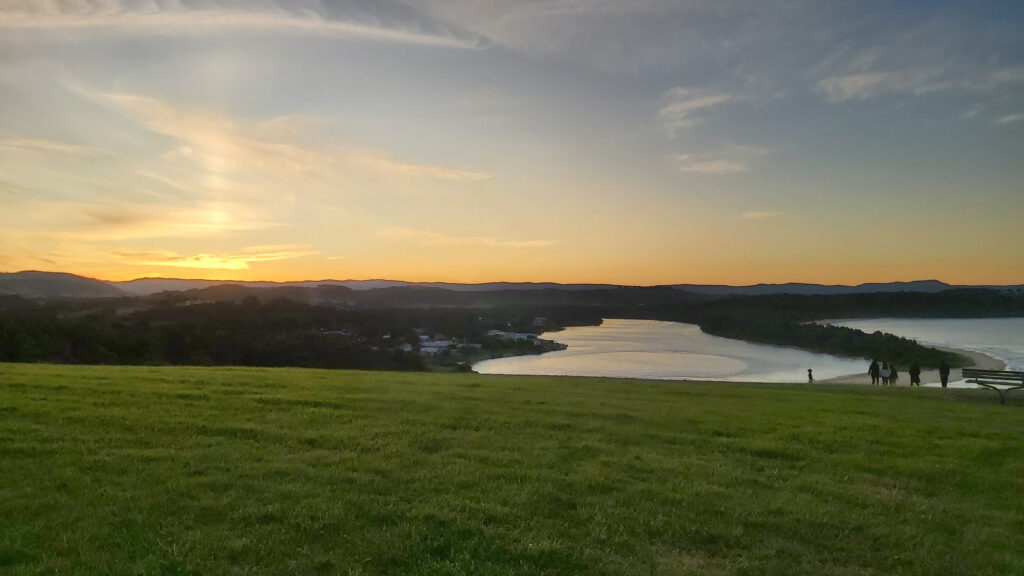 Overall, a successful first trip, I'd say. Everyone had fun, even the lost phone was found at the end, so all was good! I'm looking forward to leading more trips for SUBW in the future!!