Date: 4/12/2022
Trip leader: Bruce Stafford
Party: Christina, Jasmin, Jiaye, Olivia, Richard Yanzhou, Yessentay.

Umina – Pearl Beach – Patonga Walk Sunday 4th December 2022.
This walk is similar (but not exactly the same) as the one on 19th November; this one put on for people who couldn't attend the earlier one because of exams or whatever.
We all met up together at Woy Woy Station, and I decided on a small change of plan to save us some time waiting for a bus to Umina Beach. Instead of waiting 25 minutes for a bus to the south end of Umina Beach (where this walk usually starts), there was another bus in 5 minutes which would take us fairly close to the middle of the beach. It would require some longer beach walking but it would save time overall. So we took the bus to the shops on West Street and walked up to the main surf clubhouse and then along the beach. The weather was a bit cloudy with some dark looking clouds to the west, but as it turned out there was no rain that day. The temperature stayed at around 23 degrees C, just a bit warmer than the sea which was 21C (well, it is now La Nina). It was noticably humid and sub-tropical (since, after all, the coast north of the Hawkesbury is regarded as being sub-tropical)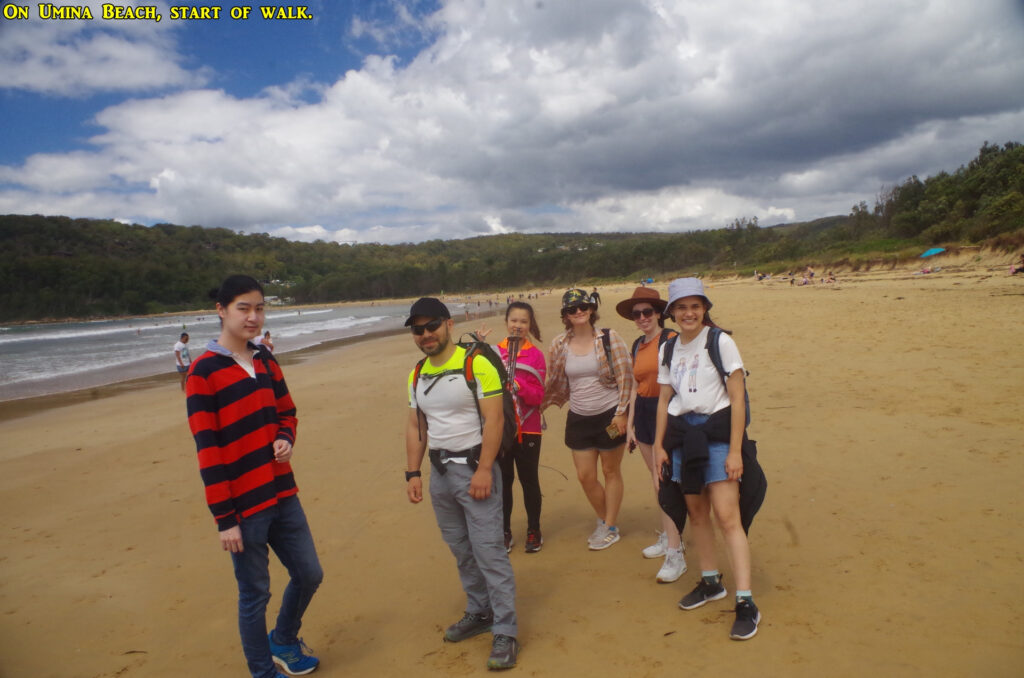 We crossed the stream coming out of the lagoon at the south end, and made our way onto the rocks and the rock platform at the south end of the beach. That was followed by a short scramble up the boulder-strewn cliff face to reach the track under Mt Ettalong which goes to Pearl Beach (and was once the road to there). Fine views of Lion Island (which has a penguin colony) and Pittwater can be seen from this track. Going almost to its end, there was another short scramble down to the beach, and along the way down I spotted a native bee (see photo). From there it was a walk along almost the entire length of Pearl Beach, stopping to look at some mineral sands on the beach, which contain Titanium. On arrival at Pearl Beach rest spot, we had a water break.
From there it was a road bash to the Crommelin Arboretum, which is like a botanical garden for trees, in this case Australian native trees (including the palms). There is a nice short walk which winds through the trees, and some longer walks if ever time permits. There is recent news that a proposed re-introduction of Koalas into the Arboretum won't be funded by the NSW government (nor will they fund their re-introduction into the Royal National Park south of Sydney). Seems it's an issue of available money (nothing left for Koalas after building stadiums??). A copy of the local news item from Woy Woy "Peninsula News" is attached in the photos below.
After a short look round in the Arboretum, we continued up the road to the Sydney University Field Station's gate (where it was noticed that a Sydney Uni "courtesy bus" was parked). and a bush track starts next to its entrance. I gave the usual warning to watch out for snakes. It is a rather vague track, made vaguer every time there is a leaf drop (which is most of the time) and it winds its vague way up the hil to eventually reach the Pearl Beach Fire Trail. There are cycads (specifically Macrozamia communis) growing here and there along this track, (and are fairly common on the Central Coast), which are primitive plants hardly changed from the Jurassic Period, and the time of the dinosaurs.
From the Fire Trail it was just a matter of following it uphill to reach the side track to Warrah Lookout, where there are fine views of Barrenjoey Head, Palm Beach, and the Hawkesbury River estuary.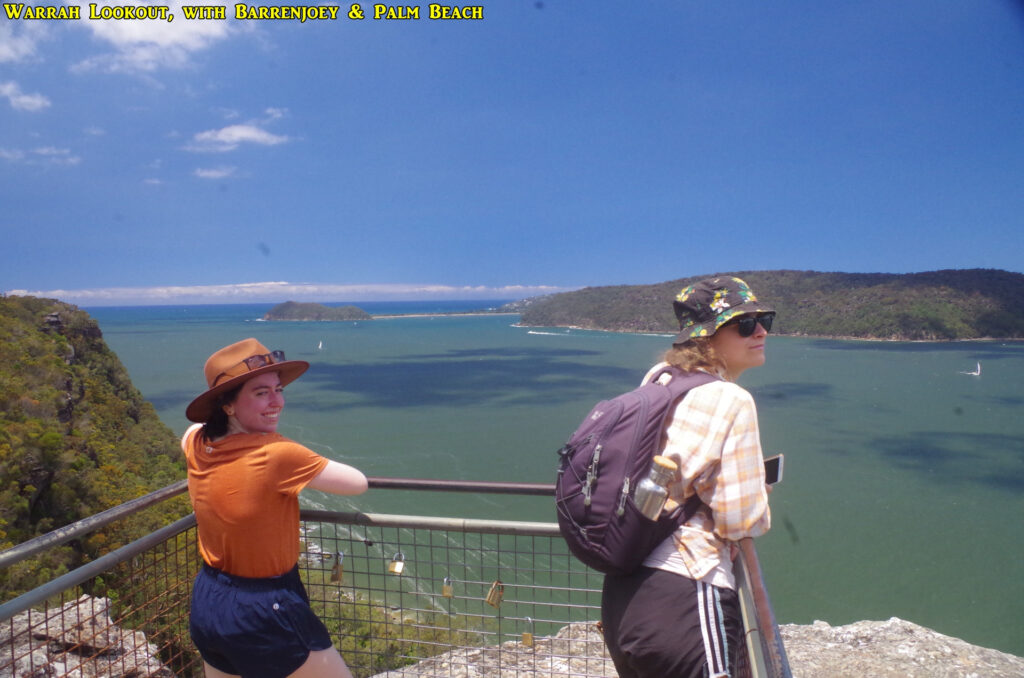 We rejoined the Fire Trail – which from here to Patonga is part of the "Great North Walk" (GNW) – and then a side track (still on the GNW) which soon starts to drop down on its way to Patonga on a winding and sometimes rough path. It comes out at the north end of the sandy strand at Patonga, and we discussed whether to have lunch there, or continue on to the Cricket Pavilion. But of course, some would no doubt want to use the toilets at the Cricket Ground, so we continued on to there. We settled in for lunch in the shade and in a nice cool breeze. Yessentay offered round som Roma tomatoes and I had a sandwich with Davidson Plum Jam from a tree in my yard. Davidson Plum (Davidsonia jerseyana) is a rainforest tree native to northern NSW and is considered endangered in the wild. Its fruit grow on the trunk. not on branches. I also had a discussion with Jasmin about the highest mountain in Oceania. It's not Mt Cook in NZ as some think, it's Mt Wilhelm in Papua-New Guinea, and named after the second son of Chancellor Bismarck. Why name the highest peak after the second son? Because in the 1880s they didn't have all the satellite technology and aerial photography we take for granted today. The early surveyors thought that Mt Otto (3546 meters, 11,634 feet) was the highest of the four peaks of the Bismarck Range, instead of Mr Wilhelm which is the highest at 4,509 metres (14,793 ft). As you can see, only out by about 1,000 metres! Even up to the mid 1980s bushwalkers in NSW had to be careful when interpreting the post war military survey 1:63360 maps they used, and obviously with less detail than today's 1:25000 maps. Some bushwalkers were known to carry spanners to dismantle old trig stations on peaks as the new technology made them obsolete and were considered unsightly.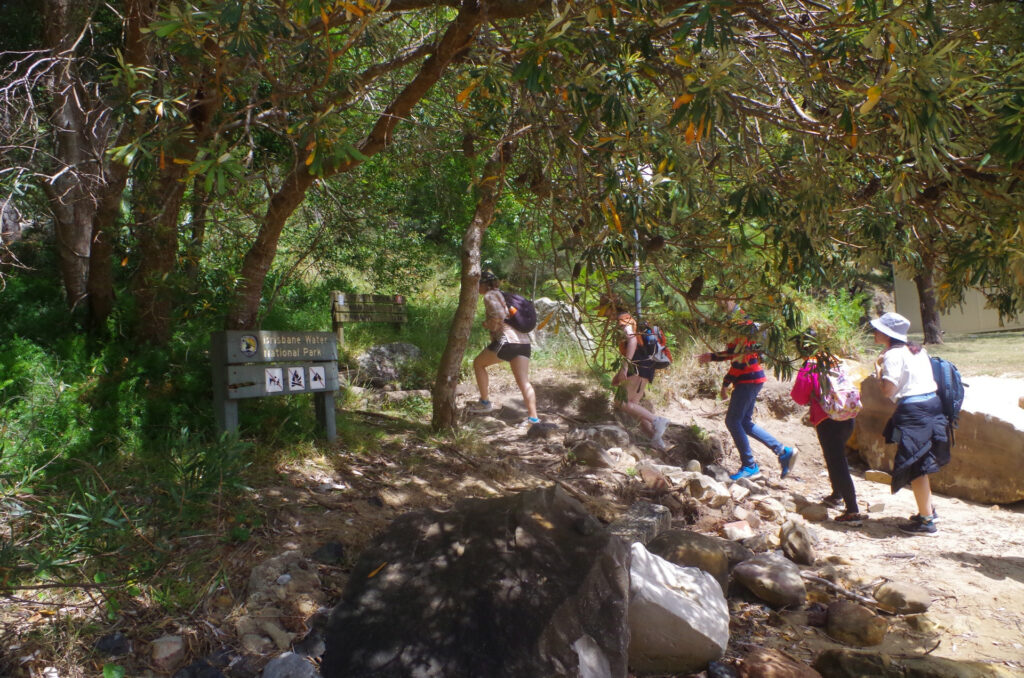 After lunch we returned back to the start of the GNW taking a shortcut through a childrens playground where Christina had a go on the swings! Then across the sandy strand to the track and started the steep climb back up to the Fire Trail with a water break along the way. We went straight down along that, with views over Broken Bay, but did not return down the track near the Uni Field Station. Then it was a minor street bash to reach Pearl Beach. By now it was 3.30pm and a stiff cool breeze had sprung up, and some decided it was too cool for a swim, although Christina and Jiaye did go in. Yessentay had a paddle too, and reparted that the water was warm, Then I checked the bus timetable and was alarmed to find that the bus back to Woy Woy would arrive a quarter of an hour sooner than what I had planned – or so I thought. I called the others out of the water, and then checked the bus tracker on "Tripview" app. Hang on, if the bus is due in a few minutes and is not running late, why is it still at Patonga, over 15 minutes away? Then I realised my mistake; I was reading the bus departure time from Patonga , not Pearl Beach. Because of my mistake they could have had an extra 15 minutes in the water – sorry about that, people! I have now amended my app to show the departure time from Pearl Beach so that I will not make that mistake again.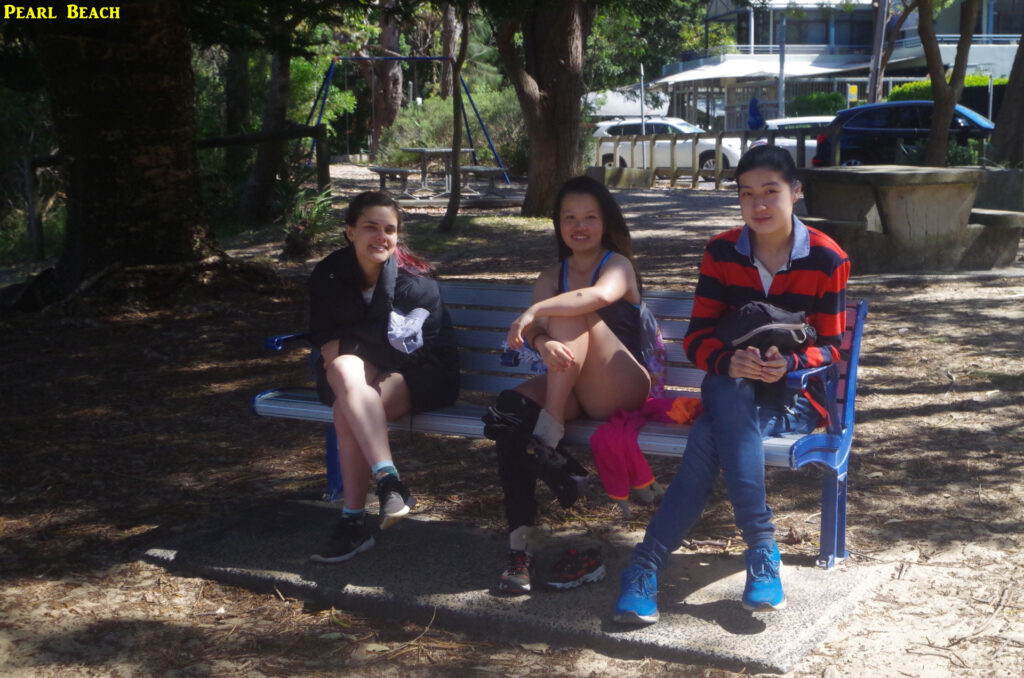 So we got on the bus at Pearl Beach for the trip back to Woy Woy Station. Along the way we had a stop for a traffic incident unique to Australia: a car in the opposite direction had stopped and the couple had got out to remove an Echidna which had rolled itself up in our lane and was at risk of getting run over. They released it into the bush. Only in Australia!
Anyway we arrived back at Woy Woy Station with 10 minutes to wait for the Sydney train (but 35 minutes to wait for my train😥 ). It seems everyone had a good time, especially Christina whose sharp eyes spotted a $50 note lying in the bush beside a track near Patonga – a helpful boost to student finances!
Again, like the Stanwell Park walk last week, it ran smoothly with a very good cooperative friendly group who all worked well together.
There were a few people who didn't attend, including George who was summoned by his Summer School to attend that day – and they are very strict about attendance. One person emailed me just after midnight to say she hadn't received any information about meeting time and place. I didn't receive her email until 8am the morning of departure, leaving her no time to get ready and get the train. It turned out she found my email (sent a week ago) in her junk folder! Lesson is, that if you don't quickly receive any info about a walk meeting time, etc, contact the walk leader immediately. And look in your email "junk" folder!
One other deserves a mention, although he was not an attendee. Someone sent me a text late the previous night asking for a place even though the walk was marked as "full". He didn't give his name however, which made me wonder if it was someone spamming me. So I checked the mobile number of people who had signed up on past trips, and sure enough a name came up of someone who had been a "no show" on two of my recent trips! No go for a no-show.
There were however, three complete "no shows" who have made no contact with me.
Photos are below; mine are as far as the Koala news item, and the 14 after that are by Jiaye.
Bruce Stafford.