Date: 19/11/2022
Trip leader: Bruce Stafford
Party: Aaron, Olivia Pham, Ruiqi(Rickie), Ruiqing, Yi-ming (Benjamin), Yulong

Umina – Pearl Beach – Patonga Walk Saturday 19/11/22
Industrial action by train staff that weekend required a change of plan made with a day's notice to everyone, as train services were reduced to one per hour at Woy Woy.
With the walk starting half an hour later than planned, I decided that a car transfer to Umina Beach, and then a car shuffle leaving one at Pearl Beach would save us some time at the end of the walk. So I met everyone at Woy Woy Station (Rickie and Ruiqing had driven up) to drive to Umina Beach. Then I did something I usually don't do, and texted Anna who hadn't shown yet, and I thought she might be still on the train platform. She replied that she thought that the walk was the next day! Still, the text stopped her from having an unnecessary trip up the next day!
We stopped at the south end of Umina Beach, and the two cars then went to Pearl Beach, a 5 minute drive, for the car shuffle. Rickie and Ruiqing's car was left at Pearl Beach, and they returned with me in my car to Umina Beach (as Rickie said she didn't know the road, which has some very tight bends) At the walk start at Umina Beach we gathered everyone to commence the walk.. It was an outgoing low tide so we walked safely around the rocks to the rock platform at the point, then a scramble up more rocks to reach the track under Mt Ettalong which goes to Pearl Beach (it was once the road to there but landslides and slippages many decades ago closed it for that purpose). This section gives fine views over Broken Bay and Lion Island and Pittwater. Clambering down a steep track we entered the north end of Pearl Beach and walked almost its entire length.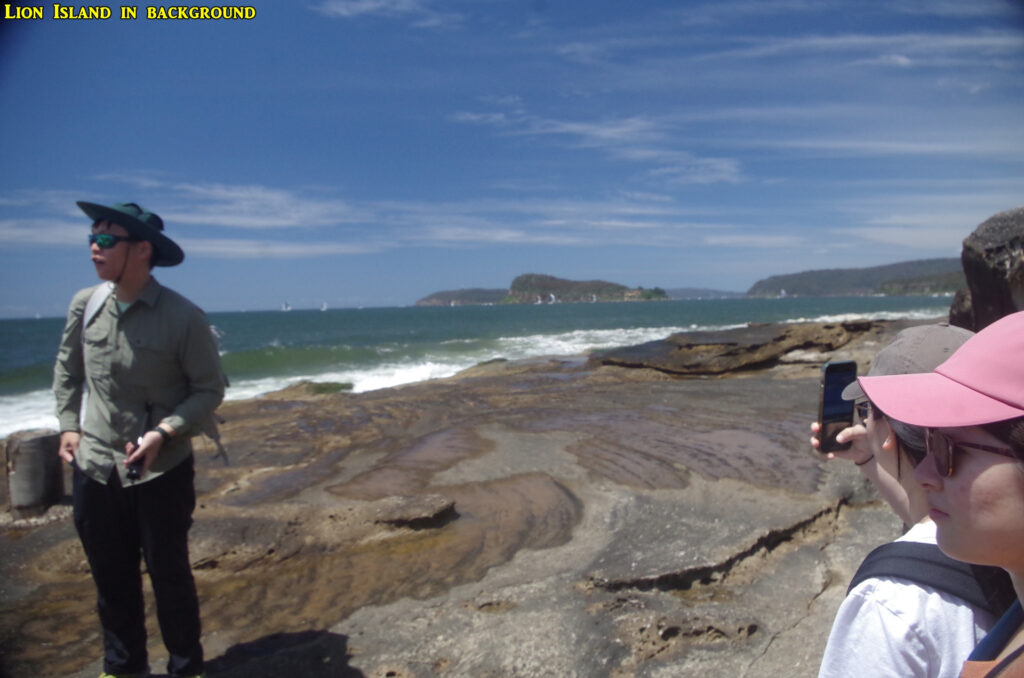 At Pearl Beach Aaron and Rickie complained about having to walk on sand, which they don't like doing. So I reminded them that the walk description did state "Pearl Beach", and what is at a beach??
At Pearl Beach we walked past the cafe and local store to continue along the road to Crommelin Arboretum. Suddenly someone called out for me to stop as Yulong had gone into a shop, and someone said that he was getting coffee (which turned out not to be true). Having experienced on past walks some persons (one in particular) who would on impulse go into a shop, or go up a side canyon or whatever, without telling the trip leader, and causing delays, I wasn't too happy. As it turned out, he had arrived at the walk without any food, only water, as he had only a short break from a work shift and no time to buy anything. We eventually sorted it out OK.
We continued along the road until reaching the Cromellin Arboretum, called that because it's like a botanic garden with just trees, in this case all Australian natives. It has some interesting short tracks weaving through the forest undergrowth. After a short break we continued along until reaching the Sydney Uni biology field station and from there took a track which headed up the hill rather vaguely to eventually reach the Pearl Beach Fire Trail. Before it does that, it follows a rather rough and in places ill-defined course through the bush. At one point a side track beckoned and I decided it was worth a look as a possible alternate track to reach the Fire Trail. It went steeply up for a short distance to a slight overhang, then took a right turn to a pink ribbon marker left in a tree branch. From there on however the way didn't seem possible unless you climbed up a quite steep rock face. So we went back down to the original track and continued along it until reach the Fire Trail that way. I'm wondering about that red plastic ribbon as it seems to me to be misleading and suggests that it's an accessible route.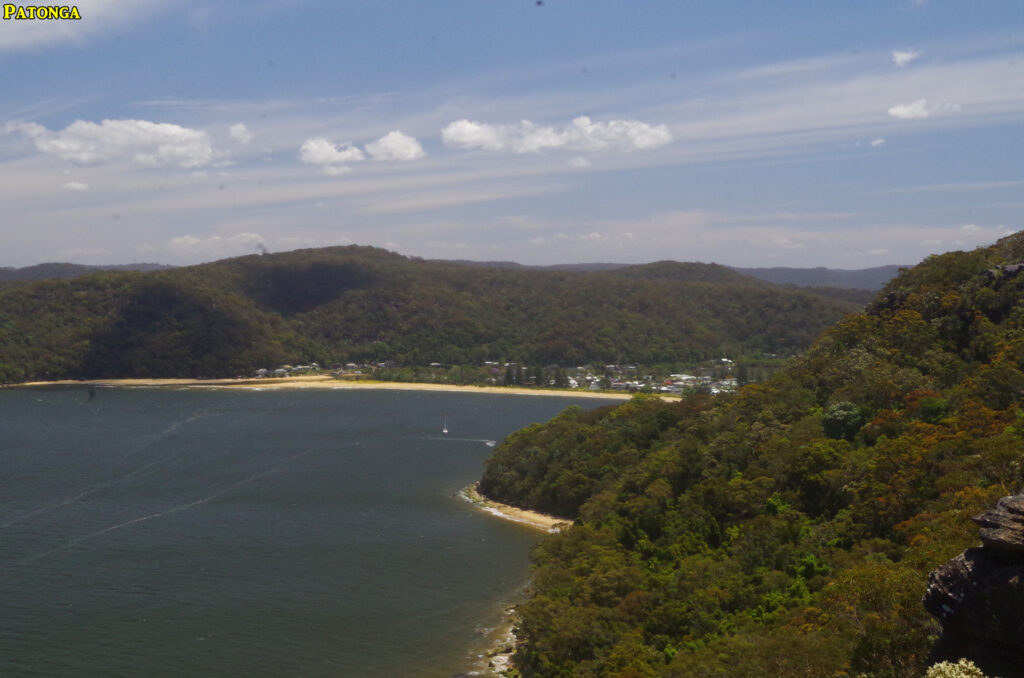 The Fire Trail rises on a continual gradient for a while and then comes to a side track to Warrah lookout. We had another break at the Lookout and enjoyed the view over the Hawkesbury River Estuary and Barrenjoey Head and Palm Beach. Another larger group of walkers arrived who had come up from Patonga but were going no futher than this lookout. They left just ahead of us, and we also took a side track that meanders through the bush back to the Fire Trail. On this track we photographed the prolific wildflowers, and I also noticed Aaron walking along looking into his mobile phone typing a message. I called out "SNAKE", and that stopped him. I told him that there wasn't one, but if there was he could have trodden on it while looking at his phone. He said "well I would just tread on it". I explained that if he did that, he could be dead in half an hour. If you are one of those people who still insist on checking and sending messages on your mobile phone while walking along a path on bushwalks, you must read this: https://www.abc.net.au/news/science/2017-11-26/youve-just-been-bitten-by-a-snake-%E2%80%94-what-do-you-do/9176728
From Warrah Lookout the fire trail becomes a part of the Great North Walk (GNW) and continues on a bit before coming to a side track on the left to go down to Patonga. We we just behind the other group I mentioned earler, and a woman in their tail end pointed out to us a "Flying Duck" Orchid, so called because its profile looks like a flying duck. It is very small and difficult to photograph, but Rickie and I did our best (see photo).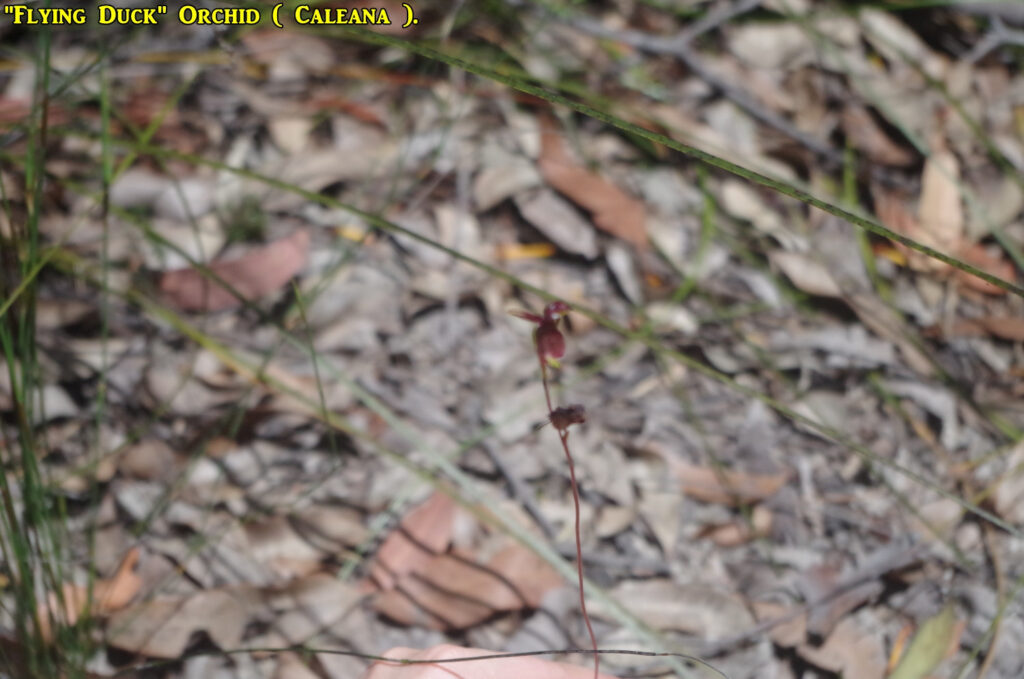 We kept up with the tail end of the other group, and at one point followed them along a track which I soon realised was unfamiliar to me and was not the GNW track to Patonga. What had happened was that the other group had gone along a side track which was as clear as the GNW, but doing their own little bit of exploring before returning to Patonga. As soon as I realised the error, I got everyone to backtrack to the proper GNW track. It is no doubt likely a nice side track to explore, but a late lunch time was approaching so we had to continue straight to Patonga.
Then the track drops down rather steeply to arrive at Patonga, where we headed for the pavilion at the local Cricket Ground for lunch. On the way I pointed out that almost nobody was swimming at Patonga except two people who we decided were offering themselves as shark lunch (Patonga is at the mouth of the Hawkesbury River and so can be frequented by sharks). I suggested to Yulong that he check the local shops for food, but he came back with a chocolate bar, saying that the hamburgers were $20 each! During lunch I handed out some sugar bananas I had grown at home; they are only one-third the size of shop (Cavendish) bananas. I also have a bunch of Cavendish Bananas just developing at home (see very last photo), so they might be ready for a walk in the New Year. No sign of any red "Dacca" bananas yet though.
After lunch we set off on the return journey back to Pearl Beach. Rickie asked if we could walk on the roadway to avoid walking along the sandy strand at Patonga (well, that's what I thought she meant), so we took the paved roadway to the boat ramp at Patonga. On seeing the remaining short (80m) stretch of sand remaining between the boat ramp and the start of the GNW track, she called out in dismay. She actually meant she wanted us to walk along the main road between Patonga and Pearl Beach! That would add on an extra 2.5km and along a bitumen road on a very warm day with little or no shade, and an initial steep hill (climbing to almost 200m compared to GNW track's maximum height of 140m) with no footpath and very narrow verges. Heavy vehicle drivers hate it because it is so steep and narrow and has tight hairpin bends. Using that in preference to the GNW track was completely out of the question. As noted earlier, Rickie was unfamiliar with that road. So with that out of the way, we entered the steep winding track and retraced our path to the Pearl Beach Fire Trail. The climb up seemed easier for me than on my past walks here – surely the track hasn't been lowered! No, it's likely that I am recovering my fitness (and lost some weight) after all the inaction during the Pandemic period. Probably others are feeling the same.
We had a short water break near Warrah Lookout, and during that, I asked everyone if they knew what a chook is, and no one knew. (It's Australian colloquial word for "chicken"). Aaron asked for a photo as he didn't quite get it, so a photo is at the end of the series below.
We continued down the Pearl Beach Fire Trail to reach Crystal Avenue, which has a "Piano Hut" outside someone's house (see photo) and Rickie had a go at playing it. A bit further along in the front yard of someone's holiday house we saw an Echidna, and a bit further again a Bush Turkey in someone's driveway busily scratching up leaves to build his mound nest (the males spend all day doing this in the breeding season). I have attached at the end a photo of the mound nest in my own yard to show you the size of these.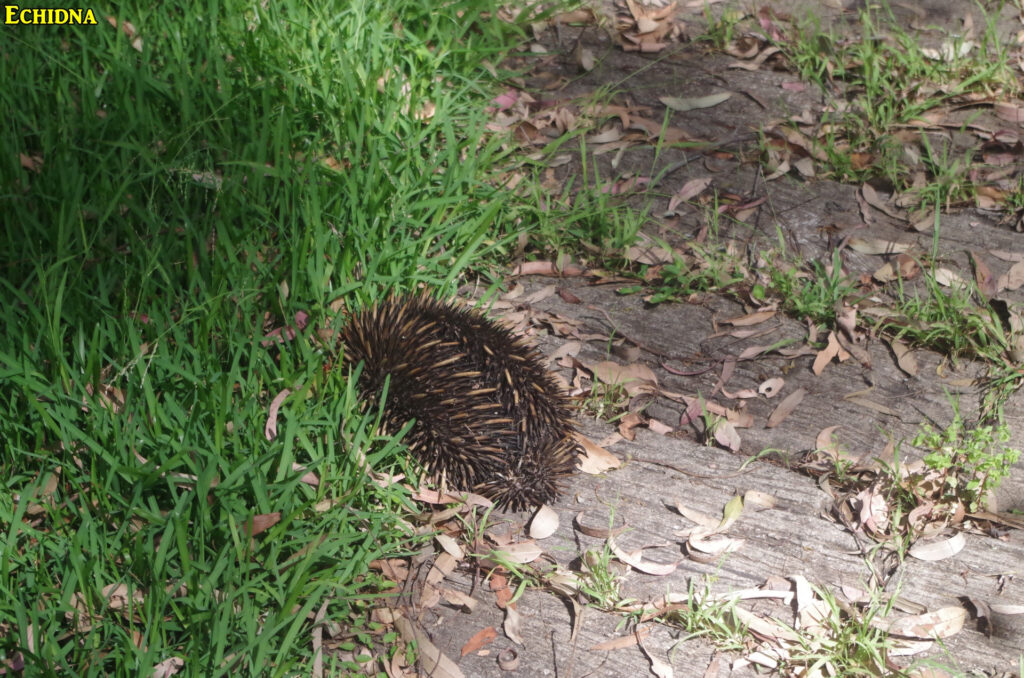 Soon we reached Rickie and Ruiqing's car, and they set off with me and Olivia to collect my car from Umina Beach, and Aaron, Yulong and Benjamin went off to the beach to await my return.. At Umina I realised that I had room in my car to take everyone still at Pearl Beach without Rickie and Ruiqing needing to return there. So they left to drop off Olivia at Woy Woy Station and I returned for the 5 minute drive back to Pearl Beach to collect the other three. We then went to Woy Woy Maccas for ice cream and hamburgers (depending on your taste!) and the I dropped them off at Woy Woy Station with 9 minutes to spare before their train to Sydney.
It was a good "moderate" walk on a day which was not too hot, and actually relieved by cool sea breezes in the afternoon. I'm glad I didn't pick Sunday (original forecast predicted afternoon storms) as it got up to 29 degrees C with strong dry winds which would have made walking unpleasant. A couple of dropouts contacted me in the morning, but there were no actual "no-shows"
Photos at end (with some by Aaron where tagged). The first few of mine were slightly out of focus as I forgot to chance the camera back to auto-focus after being on manual focus for Lunar Eclipse pics last week.
I will re-run this walk on Sunday 4th December (weather permitting) for those who couldn't do this one due to exams etc.
Also, a reminder that if you need to have a break, go to the toilet, get some food or whatever on a bushwalk, tell the trip leader directly yourself. It can avoid unnecessary problems.
And a reminder to take snakes seriously when on bushwalks: https://www.smh.com.au/environment/conservation/snake-on-a-train-stunned-passengers-find-reptile-on-carriage-south-of-sydney-20170419-gvnomt.html
Bruce Stafford.