Date: 20/4/2022
Trip leader: Bruce Stafford
Party: Dila, Giacomo, Samantha, Toby, Yu Ching

A nice fairly easy walk in the Blue Mountains in almost perfect weather.
The day looked very promising with Venus and Jupiter shining brightly in the pre-dawn sky when I woke up. And the weather turned out to be excellent, albeit a bit cool.
Six of us met up at Leura Station after riding up in various parts of the train from Central. Then it was off down the main street of Leura with first stop the toilets there. Leura was fairly busy as for many it was a normal working day. After the loo stop, we continued down Leura Mall notiung that the Autumn deciduous leaves were just starting to colour but not yet dropping. The down to the War Memorial gates at Lone Pine Avenue where a member of a Council work team nearby obliged by taking a group photo with everyone in it – for a change.
As the Lyrebird Dell Track to Gordon Falls Reserve was closed due to wet weather causing damage (it's pretty bad at the best of times), we continued along Lone Pine Avenue which is actually a service road rarely used. As a result it was rather muddy underneath in many places. We came to the Lone Pine Tree planted there in 1919 (see photo with plaque) from which the park gets its name. (History content) It commemorates the ANZAC landings at Gallipoli on April 25th 1915; ANZAC Day is coming up in a few days. Many have wondered why a campaign that turned out to be a defeat is commemorated; maybe General John Monash's highly sucessful blitzkreig-style battle at Le Hamel on July 4th 1918 would be a better fit. Problem is, that's another country's national day! (Monash was commanding Australian and United States troops at the time, hence the date he chose).
After looking at the Tree, we continued along the track which was more muddy now until reaching Gordon Falls Reserve. There I bought a cup of coffee and we continued along the short track and steps down to Gordon Falls Lookout.Going down the steel steps I instinctively grabbed the handrail at a slippery section, overlooking that I also had the coffee cup in that hand. Down it went – I didn't get to drink a drop of it! Anyway the view at the Lookout was nearly perfect; "The Gib" (Mt Gibraltar at Bowral) could be seen in the far distance, the view was so clear.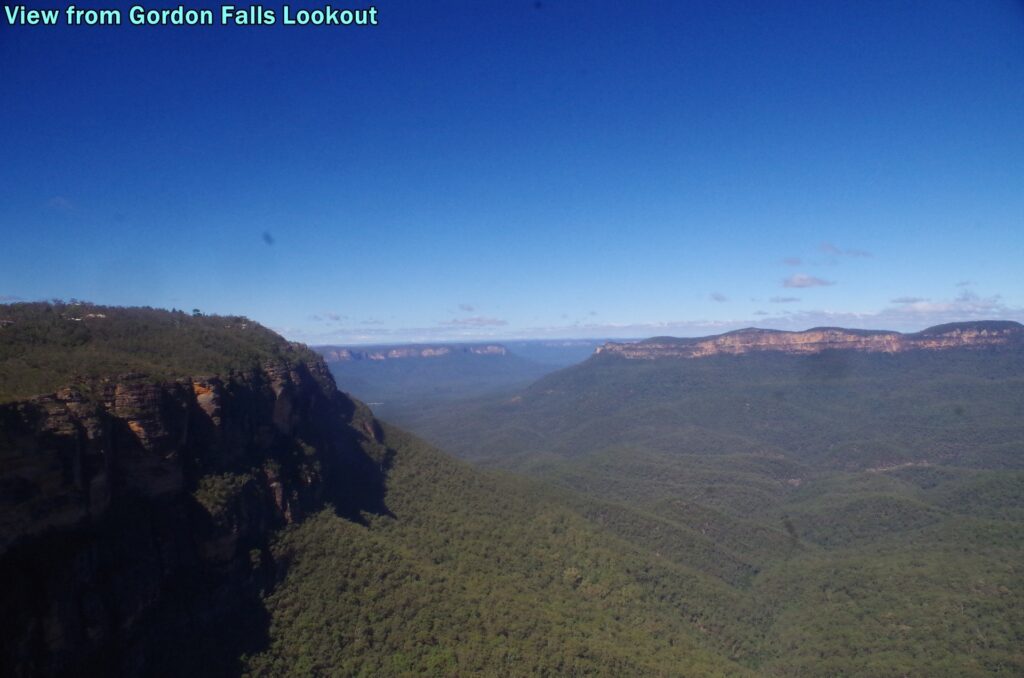 Because of track closures along a section of Prince Henry Cliff Walk, which is supposed to start here, we had to detour along a couple of streets to reach the first available enrty point, a track off Cliff Drive (also closed to vehicle traffic! for 2 years!). A bush track leads from here to Tarpeian Rock, the next view point, which also has some unusual striped rock formations (see photo). The view here is just as good as at Gordon Falls Lookout. From here the track winds around and down to the start of the Leura Cascade track. The track is no longer as rough as it once was; it seems that the local Council has taken advantage of the tourist lull during the past 2 years to do work on the track here. It can still get waterlogged though, as the ground is so saturated from weeks of rain that any further rain just sits on top of the ground. The Cascades Track was also waterlogged. The Cascades were running well though which made up for that inconvenience. At the base of the Cascades (which actually continue on a bit to become Bridal Veil falls) the track starts to climb up again along a quite long series of steps to level off again until reaching a side track to a small unnamed lookout. The view of the Falls here is not bad (access to the base of the Falls is presently closed). Then on to another Lookout called "Bridal Veil Lookout". This was also our lunch spot.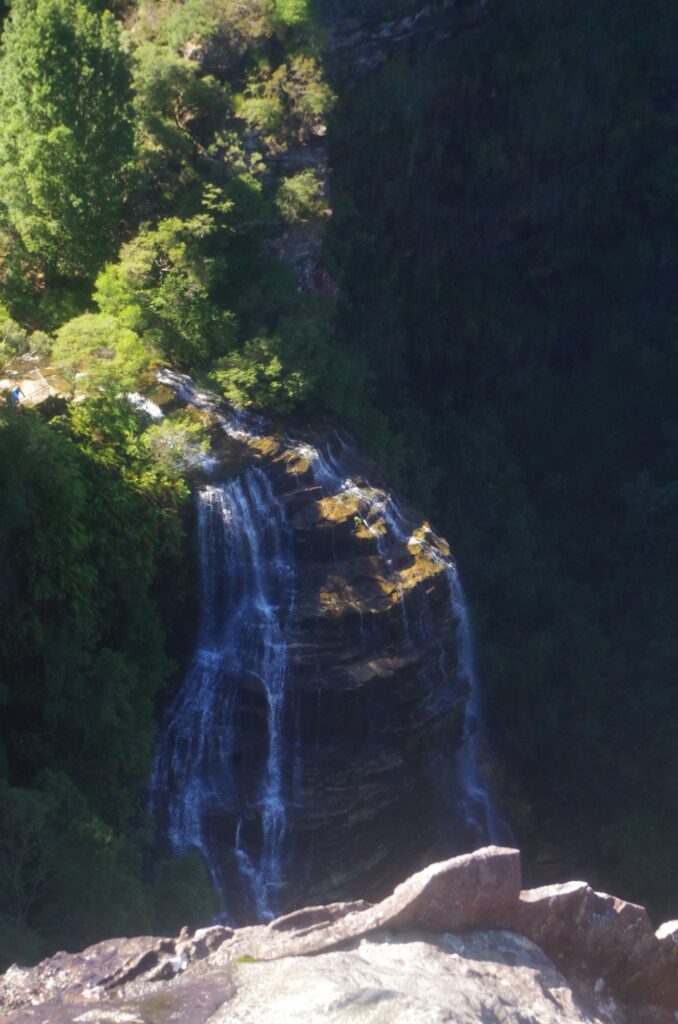 There was a large tour group there as well, but they soon moved on and then we had the lookout to ourselves apart from a couple who were scketching the view. And a large skink that came out briefly looking for scraps. Then I brought out a treat for those who had come on this walk, a home-grown Pineapple! Toby held it for the camera to give you an idea of its size.Although small it was very sweet and better tasting than pineapples bought at shops. It took me over two years to grow it, and even in the tropics it takes over 18 months to grow one. Yu Ching said that she had tried to grow one from the top in Hong Kong but said it hadn't grown after 6 months. I told her that she needs to keep it going for at least two years, and Hong Kong's climate is favourable for growing them on a large pot on the balcony (you can grow one on a balcony in Sydney too; make sure it gets lots of sun and water).
After lunch we continued along Prince Henry Cliff Walk and it comes out onto the street at Cliff Drive again for about 20 metres, then back down into the bush. It's here that we started seeing more tourists who had ventured out from Echo Point about 2.5km further away. There were a couple more lookouts we visited lthe way, including Honeymoon Lookout, where I pointed out to Samantha the Casuarinas ("She-Oaks") that dominated there and are called "Australian Pines" in her native Florida. The trees are either male or female; the latter have small cones that the local parrots love, especially the rare Glossy Black Cockatoo.
Eventually we reached the junction of Prince Henry Cliff Track with the Three Sisters Track, which is quite short and ends at a viewing point opposite The Three Sisters. Lots of tourists there. From there the final leg was to Echo Point along the well paved footpath to this major tourist attraction. We posed of course in front of the view. From here Mount Solitary sits in the middle distance, with Narrow Neck to its right, and the Ruined Castle formation can be seen below it.In the far distance is the Southern Blue Mountains peaks including The Oldies Ranges/Three Peaks ranges.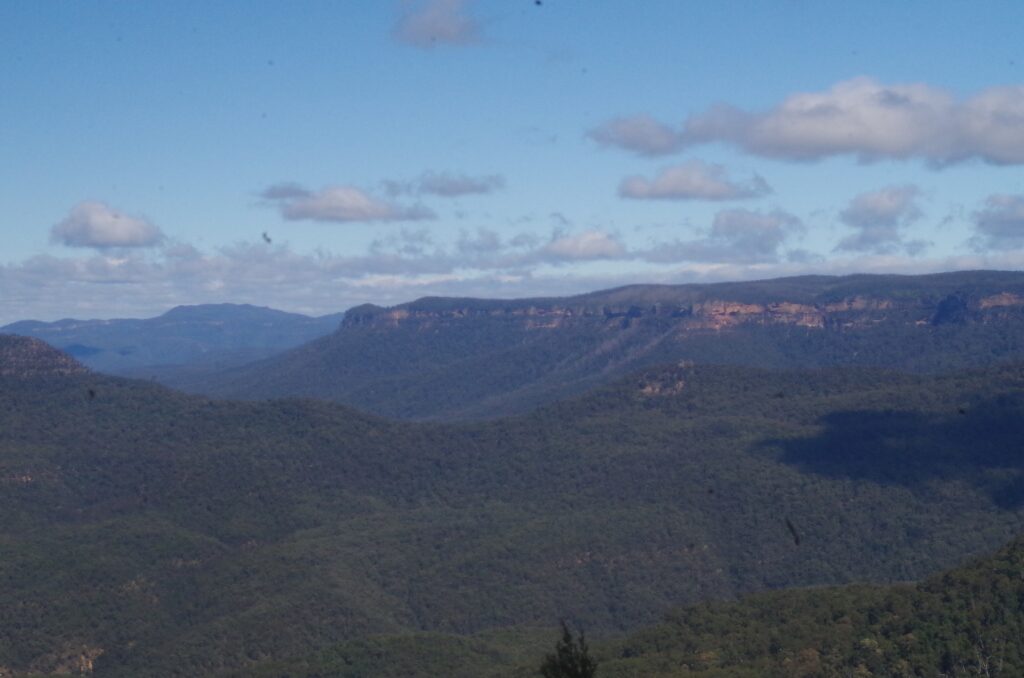 Finally we had done enough walking for the day, and by now it was 3pm so we simply took the bus from Echo Point back to Katoomba Station. We found on arrival that a train had left there just one minute ago, so with almost 25 minutes to spare we went to a cafe where Yu Ching and Dila enjoyed a coffee. Then back to the Station for the 2 hour train trip home. I got off at Strathfield for my own Newcastle Line train and the others said goodbye to me.
Everyone seemed to enjoy the walk (and the pineapple!), It was a rather cool day, but cloudless and sunny. It may be a taste of winter to come.
Two people pulled out because of sickness, one person went to the wrong platform and missed the train, but there were three people who signed up but simply didn't appear – complete now shows, and I have had no contact or explanantion from them at all. If you sign up on walks and are a "No Show", you risk being excluded from future walks which are popular and fill quickly. And you won't even be considered for walks requiring car spaces, including weekend camping trips.
I hope to be able to put on a walk from Helensburg on either 30th April or 1st may to Burning Palms if the weather is favourable (and right now it does look hopeful). P.S., apologies to those members for whom English is a second language for any spelling errors that might slip through!
Bruce Stafford