Date: 4/4/2021
Trip leader: Bruce Stafford
Party: Bruce, Iris (Huaxia), Jenna, Peggy, Xiang Yue (Skylar), Yvonne, Diego.
Photos: by Bruce, by Iris (Huaxia)

Royal NP: Uloola Falls and Karloo Pool tracks, Sutherland to Heathcote.
Despite it being the first day after Daylight Saving ended, it was still just after dawn when I went to get my local train. The morning sky was brightening but Saturn was high overhead with a waning Moon. I was serenaded by two Tawny Frogmouths as I left home. I was a bit surprised to hear them when it was starting to get so light. Their soft "mmm,mmm,mmm,Mmm,MMM, MMM", is so distinctive and a unique Australian bush night sound. The weather forecast for the day was very promising with a temperate of 26 degrees C on a fine day.
Trackwork on the Illawarra and South Coast Line meant that for the Easter long weekend there were no trains running south of Sutherland. That required a change to the normal way of accessing Audley and the start of the walking tracks there.There were train replacement buses going to Loftus and elsewhere, but get on the wrong one and you could end up at Thirroul near Wollongong. What's more, the timing of the buses arriving at Loftus would have had us cutting it very fine to transfer to the tram. Thus the simplest way was to walk down to the present north terminus of the tram which runs into the National park, located about 700 metres south of Sutherland Station (on past trips we have got the tram at Loftus).
At first at Central I became worried that no one was going to turn up for the walk, as no one had shown up at Central by the time the Sutherland train had arrived. I did notice Jenna earlier on but she didn't recognise me and moved down the platform trying to find a group of walkers but couldn't see one. She eventually got on the next Cronulla train which arrived at Sutherland 2 minutes behind mine. Meanwhile I had got text messages from Yvonne to say she was on the train, and then from Jenna advising she was on the train right after ours. I was relieved when everyone who had signed up turned up at Sutherland. After some loo breaks we walked down the Old Princes Highway to where the break in the fence allows access to the tramline and we walked back up about 200 metres to the waiting shed. I kept a lookout for any unscheduled trams coming up the track! We covered the distance in less than 15 minutes which was quicker than I expected so we had about a 10 minute wait for the tram.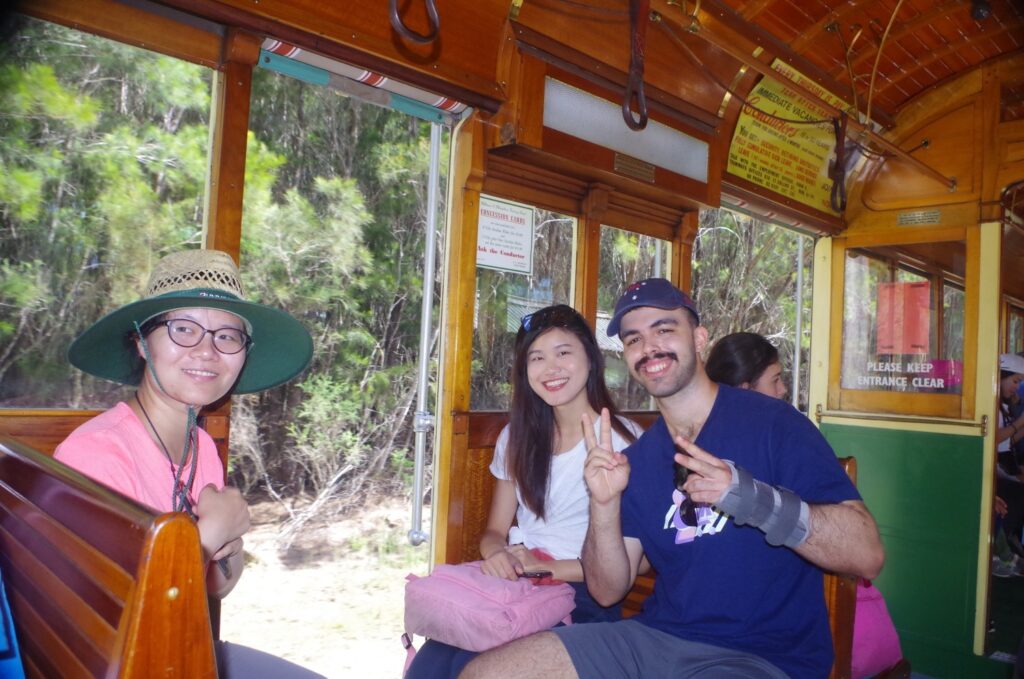 I predicted that this time there might be an older tram on the run instead of the modern types, as paradoxically it is much easier to do "social distancing" in the older ones which have a seat layout similar to Sydney's new Metro trains (back to the future!!). And I was right, as along came a Melbourne tram built in 1924. I had already contacted the tram people who advised that fares would be collected by contactless at Loftus shed and not on the tram itself. Anticipating this I had collected everyone's $4 fare earlier. On arrival at Loftus I made a group payment via card and also signed on for everyone with the COVID19 QR code, as I had everyone's contact details. Then it was back on the tram for the next section into the National Park.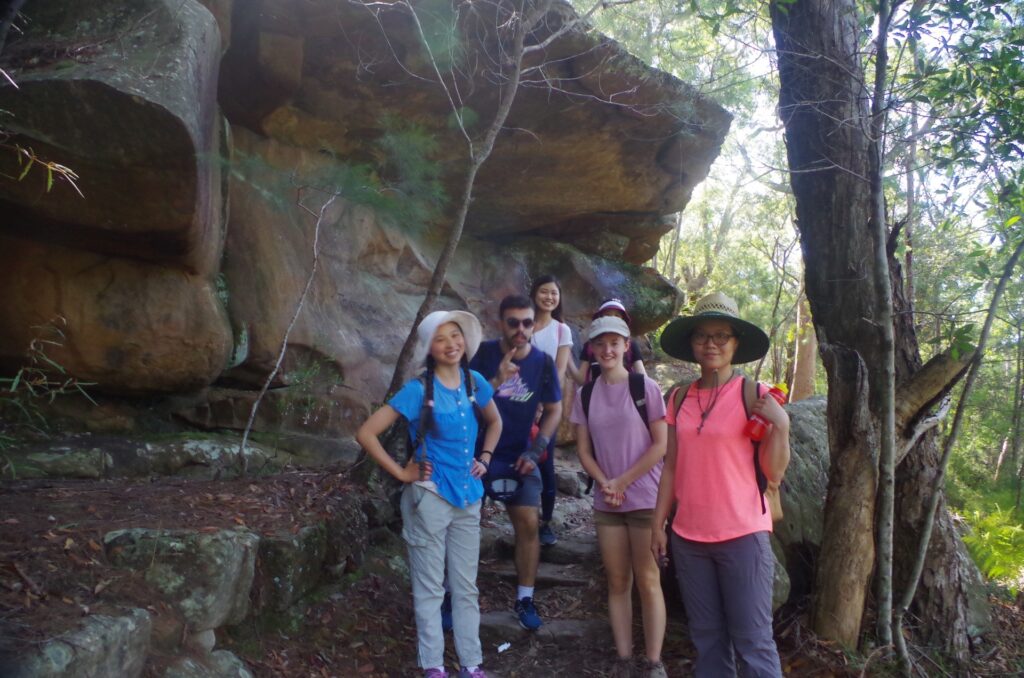 Once at National Park terminus we continued off along the "Honeymoon Track" which drops down after about 1km to the weir at Audley. We saw a lot of walkers on this busy section. From there we crossed the Hacking River along Audley Weir and I explained that the water on the left (with the Cormorants) was salt water, and the water on the right was fresh water. After a toilet break at the Audley Picnic grounds (very busy) we crossed the old wooden bridge to the other bank of the Hacking River to start the climb of the Robertson Roundabout track.This track starts rising at a steady rate right from the start and follows a rocky track through lightly forested area which offered little shade on this day which was starting to heat up. It was no surprise that we saw no other walkers on this section until much later on at the junction with the track from Wattle Forest another 2km along. Meanwhile there was only about 150 metres until the junction with the track to Engadine Station.
We saw several skinks which didn't stay around to be photographed and a tiny dragon (probably a Jacky Lizard) but also there were several places where we saw red Bull Ants, and on stopping to photograph one it moved menacing towards me. These ants can give a nasty Formic Acid sting with their pincers so are best avoided. Then after 2km we came to the junction with the Wattle Forest track, where the NPWS sign said it was "1 hour 40 minutes" to Uloola Falls (our lunch spot). Some of the group worried that we wouldn't have lunch for another 1 hr 40 minutes but I was sure we could make it in 1 hour (i.e. at 1pm). So we continued on along the Uloola Falls track which goes for some distance through heath which offers little shade and also doesn't often allow a breeze to get through.Still, there were quite a few wildfowers out on the bushes,and we saw some native bees too. We soon came to a rock platform which gives a view south towards Garawarra and the Hacking River Valley and its a good break spot in cooler weather. Not today though unless we wanted to cook ourselves, but from here on we started to get a cool breeze from the river valley to help cool us down a bit. It was quite humid though. It was on this section we started encountering more walkers going the opposite way towards Audley.
After what seemed a long while (it was getting hot) the track made a right turn and started to drop down into a more forested area, and also we could hear the Uloola Falls not far off. We reached Uloola Falls at 1pm as I predicted. We were happy to see that the waterfall and its creek were running quite well. There were also a lot of other walkers there having lunch at this popular break area. We had to cross the creek, but as we could find no easier crossing spot nearby, there was no choice but to get one foot wet crossing the creek at the Falls. A walker from another group helped some of our group get across without getting too wet.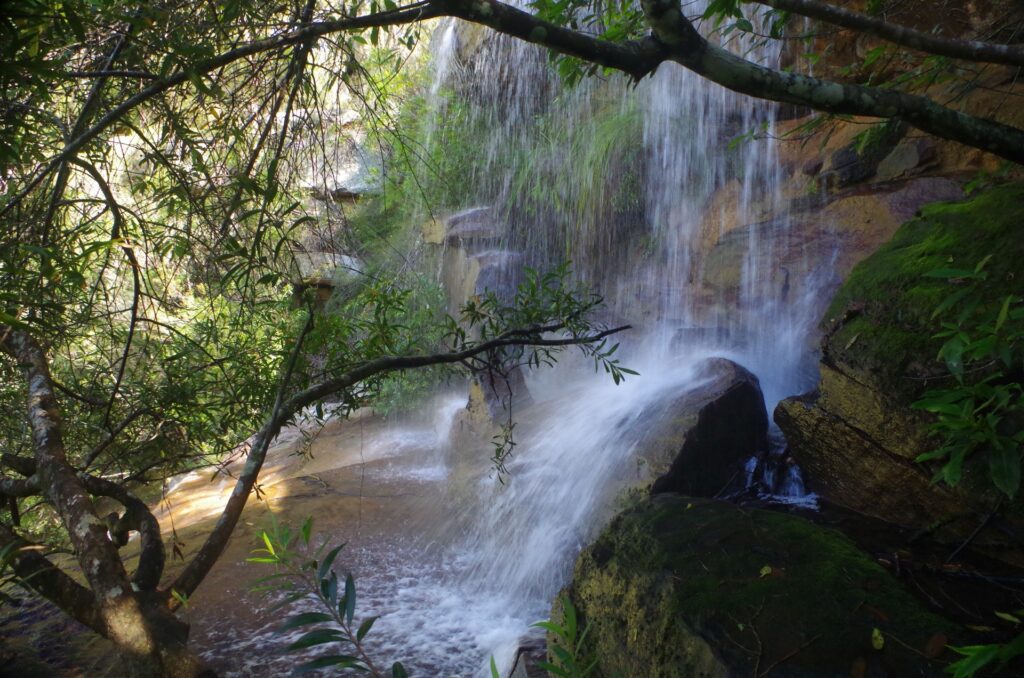 At the Falls we had lunch but because of the number of people there we had to spread out a bit. Yvonne and Diego found their own shady spot nearby. I took a walk down further to about halfway down the Falls to get some photos. Then I joined the others for lunch in the space vacated by some other groups who had now moved on. We watched some tadpoles swimming strongly in the pool to avoid being washed over the Falls (I suppose they would still survive if they were…).
After lunch we started on the next section to Karloo Pool, another 2.3km along. The track is rather rough in places, somewhat more so than the previous tracks from Audley and I can assume that it's a result of the heavier foot traffic between Heathcote and Uloola Falls via Karloo Pool. It is also muddier underfoot in many places despite the warm day and the absence of rain for some days. At a rock shelf the City CBD skyline can be seen (although quite hazy on this humid day). Along the track I found a skink that was regrowing its tail, apparently having lost it to a predator (bird maybe?). And then further along a larger one on a rock on the track. As reptiles do (including snakes) it stayed still hoping we wouldn't see it. That of course made it easy to photograph it, but as I was doing that another walker (not of our group) almost trod on it, not looking where he was going. I would have thought that if you see a group stopped on a track and something being photographed you would make a detour. After all it could have been a venomous snake we had seen. Just goes to show you always need to keep a lookout when walking on bush tracks (and not look at your mobile phone).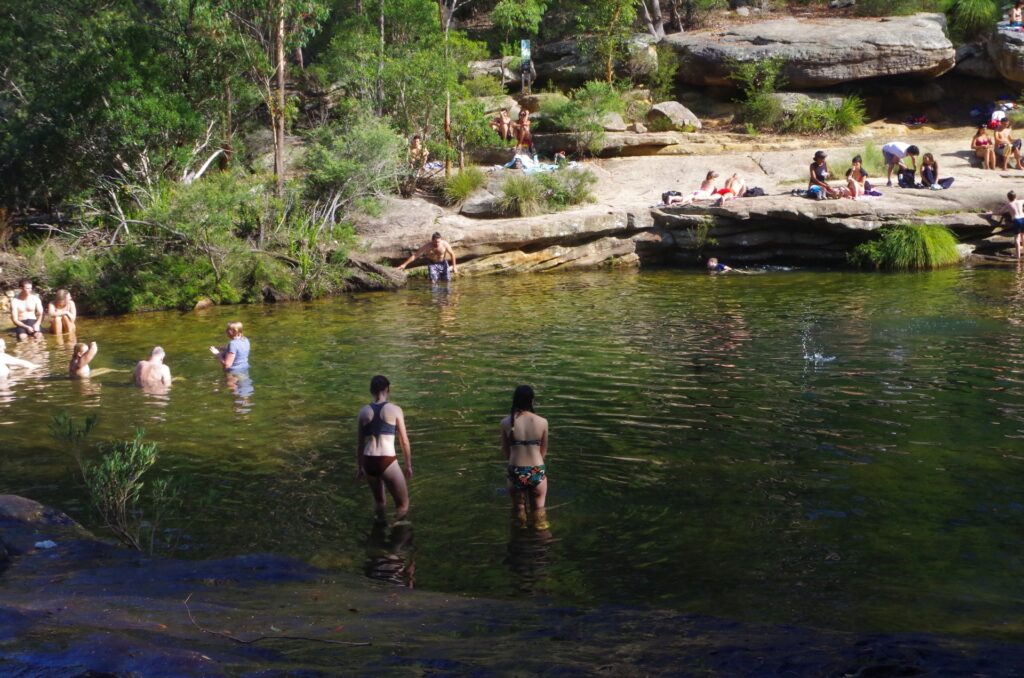 Anyway after that the track started dropping down to eventually reach Karloo Pool. This large pool on Kangaroo Creek is quite popular and it certainly was today, with plenty of people about. We crossed over to the shady side and three of our girls got changed (one ingeniously donning a raincoat to do so!) and went in the water which was pleasant after the walk in very warm weather. We were there for about 45 minutes resting and swimming, and then headed off to Heathcote Station along the Karloo Track. It's start is not obvious at Karloo Pool and we had a false start when a track we took suddenly ended at Heathcote Brook, a side tributary there. Backtracking we found the right (signposted) route. This track, like the one from Otford to Burning Palms, is being loved to death with the heavy foot traffic to Karloo Pool and like the Otford track is heavily eroded exposing uneven rocks and undermining tree roots. On the first section it rises steadily and later on levels out to cross a couple of rock platforms. After an hour walking from Karloo Pool the track ends in Heathcote suburbia and exits opposite the Railway Station next to the local Rural Fire Base (with a very obvious radio tower next to it, a useful landmark).
That was the end of the walk and on crossing the footbridge over the Highway there, went down to the bus stop to await the next train replacement bus back to Sutherland. We found out from the bus marshalls there that the 4.04pm bus was running probably 10 minutes late (we got there at 4.05pm aiming for the 4.24pm bus). The delay was caused by the very heavy highway traffic.. Someone from our group asked if there was time for her to go to the nearby service station (50 metres away) to buy some water, and as I could not yet see the bus coming much further up the highway, I decided that she had enough time. A few minutes later the bus arrived and the waiting passengers got on board, and then we noticed that we were missing not one person at the service station shop, but 5 people! We yelled out for them to hurry up and they came running out and made it to the bus just in time. If we had had to let the bus go, it was 50 minutes to the next one due to the traffic delays. The bus took us to Sutherland station with 10 minutes to the next City train. I got back in time to see the beautiful red sunset glow in the sky from my train.
At Sutherland I made clear my displeasure at 5 people going to the shop instead of just one, as there certainly wasn't enough time for all five to be served before the bus came, as events proved. It appeared that the person to whom I said had enough time for the shop then invited the other 4 to come along. Those four apparently assumed that that was OK with me when it actually wasn't. As I was busy talking to the bus marshalls I didn't see them leave, otherwise I would have stopped them.
This was the one unfortunate jarring note to what otherwise had been an enjoyable medium walk on a day with fine but rather warm weather. It does emphasise how important it is to always let the trip leader know what you are doing if ever you need to leave the group. The groupleader is responsible for getting people back home safely. Although not applicable this time, we often have new students who are new to Sydney coming on walks, and it is a safety issue to ensure that they don't get back into Sydney too late at night. And never assume anything when on walks; always ask. The bush doesn't always readily tolerate even honest mistakes when they occur.
There were no "no shows".
A sample of photos is below but there are many more in the two links at the top of this report.
Bruce Stafford.