Date: 30/1/2021
Trip leader: Bruce Stafford
Party: Bruce, Chloe, Cristian, Andrew.
Photos: by Bruce

Helensburgh – Burning Palms Beach – Otford .
Small groups on bushwalks are common this time of year (and the on-again, off-again rainy weather)..Eight had originally signed up, but three pulled out earlier for various reasons.
It was also in some ways a half-day walk as we didn't start off from Helensburgh until 12.30pm. That was because the low tide at Burning Palms was at almost 5pm, so an earlier start didn't make sense.
I met up with Andrew at Central Station and Chloe had phoned she was also on her way there, but by train departure time she still hadn't arrived. The train staff member on the platform indicated to me if I was still waiting for someone, and was willing to hold the train for just a bit, but the train couldn't be held for long. So I went inside it and it was flagged off to go. Chloe had just missed it by seconds as she came from Glebe by bus and it hit heavy traffic on Broadway.
On arrival at Helensburgh, Cristian met us there as he had driven down, and as I had agreed to wait until Chloe came on the next train, took the opportunity to have a look round the area. Also, one other person who had signed up for the trip, Patrick M, hadn't turned up and it would also give him time to arrive if he was late (although I had received no message from him). So we walked down the road from the station to nearby Old Helensburgh and Metropolitan Tunnel entrances, both of which are presently closed to entry. An old Cocky was guarding the gate to Metropolitan Tunnel (see photo).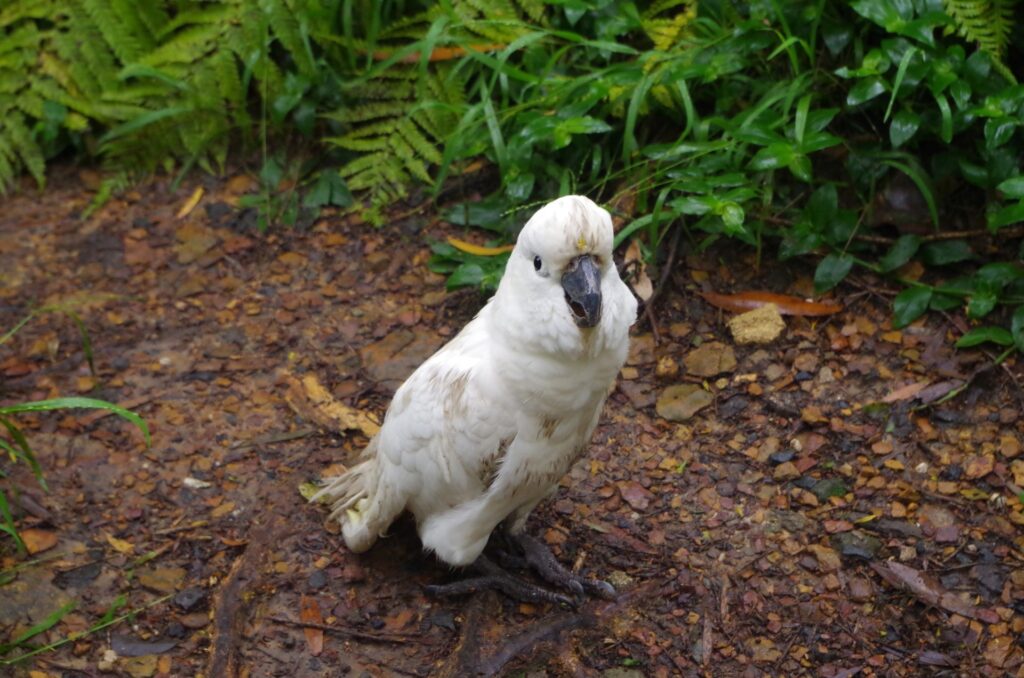 Then it was off to Wilson's Creek to look at the culvert and also the waterfall there. I had wanted for a while now to find out how to get down to the swimming hole at the base of the waterfall, and a passing local pointed out to us the track down that locals use. We didn't try it as it was steep, muddy and slippery today, and also Chloe's train was due in in 8 minutes. So it was back to the station. I noted also the Wilsons Creek was running fairly full, which meant that the Hacking River, which we had to ford later, would be up too.
Also by then the rain showers that had been coming at Helensburgh had stopped, and it didn't rain for the rest of the day.
We met up with Chloe, and had a final look to see if Patrick M had arrived, but he hadn't, so he must be regarded as a "no show".
So then it was off along the steep track by the railway fence and then the track which skirts the fence of the old Tip at Helensburgh to reach the start of the Hacking River Firetrail. Before that point, we passed by some Blackberry bushes with a few ripe blackberries on them. Most were green and unripe however as it is early in the season for them. I tried a few and Andrew tried one but his must not have been fully ripe (red ones) as he said it was "tart". Cristian and Chloe declined.
From there we continued along the Hacking River Firetrail until the side track which is the start of the "Burgh Track", which eventually goes all the way to Burning Palms. Halfway along the sun finally came out and stayed out for the rest of the walk. We reached the ford of the Hacking River, which is crossed by boulder hopping,and noted as predicted earlier that it was up high, and the water was turbid, hiding any deep holes. Cristian decided to give it a go and just crossed by walking through the water instead of hopping via the slippery rocks, as his shoes were waterproof. Andrew, Chloe and myself decided to ford a short distance upstream where the water was shallower and didn't require stepping on slippery rocks. I tried one spot and on lowering my leg in found that the water was up to my knee but I hadn't touched bottom (which I couldn't see in the turbid water)..Obviously it was a deep hole! No go there.
Just a bit further up it was easier and I simply crossed with shoes and socks on as I had thick woollen socks and it doesn't matter on a walk if they get wet. Chloe and Andrew however had cotton socks, so had to take shoes and socks off to cross with bare feet. (BTW I have a funny story about "bare feet" to tell you which got left out of my last "tunnels" walk report; I will include it at the end of this one).
After that we continued along the Burgh Track which rises fairly steeply after crossing Lady Wakehurst Drive, until reaching the top of the ridge. Some water breaks were needed along the way, and also at the Garawarra Farm Car Park. From there the track descends until it reaches the Coast Track which we take to access Burning Palms Beach. By now the Sun was well and truly out and the predicted 27 degree C was felt. We also saw the first of the many small dragons who appear to prefer sunning themselves on the newly installed boardwalk. We didn't see any large ones though.
We eventually reached Burning Palms Beach and noted that it was closed as there were no flags out (it is patrolled in summer). Noted also were the numerous "Bluebottles" (Portuguese Man-O-War) littering the beach. These are often brought in on nor'easterly winds such as we are having now. Their tentacles can give a nasty sting if they catch around your legs (especially painful for small children). See Bluebottle – The Australian Museum for more important info about these (and better photos: the Bluebottles we saw were dried up and shrivelled). NEVER rub sand on Bluebottle stings – got no idea where that crazy theory came from. Cristian said that in the Navy they recommend weeing on the stings, which makes sense as very warm water, optimally at 40 degree C is recommended to pour on the stings to denature the toxin proteins.
At our afternoon tea break, Cristian and Chloe discovered that they had acquired a leech each somewhere along the way (probably at Hacking River). Andrew and I were not bitten but on my arrival back home I found a leech (non-engorged) which apparently had hitchhiked on my shoe and was unable to penetrate it. I put it in a container and fed it to the chooks the next morning.
Although there was a very low tide we could see waves crashing over the edge of the rock platform at Figure 8 Pool so it was obvious that it was too risky to go there. It was not just the Pool area itself which can be risky; passing around the first headland along the way is also very exposed in a heavy sea swell such as now (2 metres) The NPWS advisory also warned it was dangerous to go there Figure Eight Pools | NSW National Parks and that's another thing I want to mention. Often when I take walks there some people complain when I only spend half an hour there and why can't we stay a few hours (to get more luck!). a very low tide only presents a window of about an hour there before the tide starts to come in again; not only that, but the height of the tide also determines how safe it is to walk to there and back to the beach along the rock platfoms and boulder fields. If you are reading this today (1st Feb) you will note that the NPWS site only gives just one hour of low risk there today at low tide.
So no visit to Figure 8 Pool today. Chloe asked if such pools are always found at the intertidal level on rock platforms. The answer is yes, as they are formed by boulders and large rocks swirling in the tidal surges, and don't form if they are too far underwater at low tide.
Then it was back to Otford Station to await the 7.15pm train, one of the measly 2 hourly weekend train service that transport bureaucrats allow to "smaller" stations on the South Coast Line, despite the populartity of some like Otford and Stanwell Park. (Miss the 7.15pm train and the next one is 9.30pm!). This walk takes us along the Coast Track which passes through Palm Jungle and rises rather steeply until reaching Werrong Lookout. We didn't stop there as we could hear the ominous sound of distant thunder which indicated that a predicted thunder storm was approaching, and we didn't want to get caught in it. Soon we reached the Ridge Track (which Wildwalks website calls "The Squeezeway" which continues all the way back to Otford Lookout, partly via a wide fire trail then by a track. That track is presently being repaired with an elevated boardwalk due to the severe level of erosion on the original track by all the tourists going to Figure 8 Pool.
At Otford Lookout the edge of the thunderstorm could easily be seen, and the rain radar showed it had almost reached nearby Stanwell Park. So although we had enough time to walk to the station via the more easily graded but longer Domville Road, we went straight down the direct way along Beaumont Road. We had a 20 minute wait for the train at Otford Station.
It was an enjoyable day out despite not being able to access Figure 8 Pool, and the weather turned out to be good, too. There will be another Figure 8 Trip after Uni Welcome week (in whatever form that may take).
Now, I did say I would tell a funny story about "bare feet" that got omitted off a recent trip report:. On the 10th October Tunnels Walk, one girl asked, on arriving at Stanwell park Beach, could she walk the rest of the way in bare feet. I said yes, on the beach sand it was OK. No, she said, all the way back to Stanwell Park Station too (2 km away). I said that no way! She couldn't be walking in bare feet along bitumen roads and concrete footpaths back to the station. She insisted she could and she said she walked around Uni in barefeet. I was going to call BS on that until one of the other girls realised what she really meant. She had meanwhile got her thongs out and the other girl said: you mean these? She said, yes, walking on "Flip Flops". Other girls: "You mean walking with thongs*, not on "bare feet". It seems that the "bare feet" girl didn't realise that in normal English "bare feet" means exactly that; it doesn't mean walking in 'Flip Flops" which are called thongs anyway in Australian English. So, basic lesson: if English is not your first language, learn the correct terminology.
There are more photos on my Flickr website quoted at the start.
Bruce Stafford