Date: 11/11/2018
Trip leader: Bruce Stafford
Party: Adam, Chloe, Dirk, Gavin, Leopold, Qiwen, Xuefeng, Yina, Zhong
Photos: by Bruce

We all met up at Central for the long train trip to Mount Victoria, except Zhong who met us up there. I think that a few of us had had a late night the previous night as some of us dozed on the way up. We got a later train than normal for a Mount Victoria walk, as I wanted to get to One Tree Hill – Elevation above sea level 1111 metres – at 11.11am on 11/11. The date and place was chosen as it was the Centenary of the Armistice at the end of the First World War at 11am on 11th November, 1918.
As it turned out the train was 6 minutes late getting to Mt Vic, which gave cause for concern that we wouldn't make it there on time. As we walked past Memorial Park we could hear the bugle sounding Last Post for an Armistice Day ceremony there at 11am. In another coincidence, One Tree Hill is 1.11km from Mt Vic Station, and we made it there right on 11.11am!
The weather there was a bit cooler than expected given it was almost summer, but it was a nice clear day all day for our walk.
After a photo-stop at One Tree Hill, which is the highest point in the Blue Mountains City Council area, we continued on to Mt Piddington Lookout (1090m) where we took in the view. The actual Mount Victoria could be seen as a high ridge to the west. From Mt Piddington we found the Fairy Bower Loop track, and took the left branch which went down a gully via a few zig-zags until reaching Fairy Bower Creek, passing throgh very shady undergrowth. This track was new to me so something of an exploratory walk. A side track off it goes uphill and comes out at a park next to the railway. Nearby is an historic old toll house but we didn't go up that far. We retraced our steps until reaching a wooden bridge, which looked like some of the wooden base was a bit dodgy but with solid old rail line holding up each side. From here we continued along Fairy Bower track proper, going under a big fallen log and through a shady overhang where the track was narrow, until reaching Cox's Cave. This cave is reached via a steel ladder with about 20 rungs and about 7 metres high. Just a bare ladder with no cage around it so care needs to be taken. I stayed below to mind everyone's packs (not that we saw anyone else on this track other than a guy with two small children), while the other 9 went up to explore. Apparently it goes around the edge a bit but it is a rather narrow short track. After exploring they came down and we continued up out of the shady gully. The track is quite rough at this point. We arrived back at the start of the loop (from the other direction) and then to Mt Piddington for lunch.
We had a nice lunch break at Mt Piddington, and because this day also marked the centenary of the end of the Austro-Hungarian Empire (the Republic of Austria was declared the next day), I got in my mobile phone a Youtube video of the old Habsburg National Anthem, the Kaiserhymne, and played it for our Austrian member of the group (but in the Czech language to keep it neutral!). It's the same tune as the present German national anthem but totally different words.
After lunch we went along the track which links Mt Piddington with Pulpit Rock and includes a short section of Reinits Pass. This track is interesting in its own right and it's surprising that it doesn't rate a mention in any walks guides. It is also probably why we met no one else along this track. It passes through landscape typical of the western edge of the Blue Mountains, and frequent views of Kanimbla Valley and Cox's River, and as far as Hampton on the Jenolan Caves Road. One lookout is called Red Rock, but it looked more like Red Shale to me. Not wise to get too close to the edge.
Eventually we reached Pulpit Rock where we get the same view as at Red Rock.
My original plan was to walk down the Little Zig Zag and join a track to Reinits Pass to go back up to Mt Piddington. The day was moving on, however. To do both walks would need an earlier departure from Sydney. In any case we did part of the Little Zig Zag as far as a signpost marked "Bushrangers cave". There were some rock climbers there but couldn't see any sign of a cave (although recently I have been given directions by a local how to find the cave – a target for a future walk). So back up Little Zig Zag we went, spotting a small dragon on the way (probably a Jacky Lizard). From there it was a street bash back to the station when a train was waiting. So back on the train for a faster trip back this time as it was not all stations to Penrith. Spotted some Kangaroos in the grounds of UWS at Werrington.
At Central Station everyone went their own way home.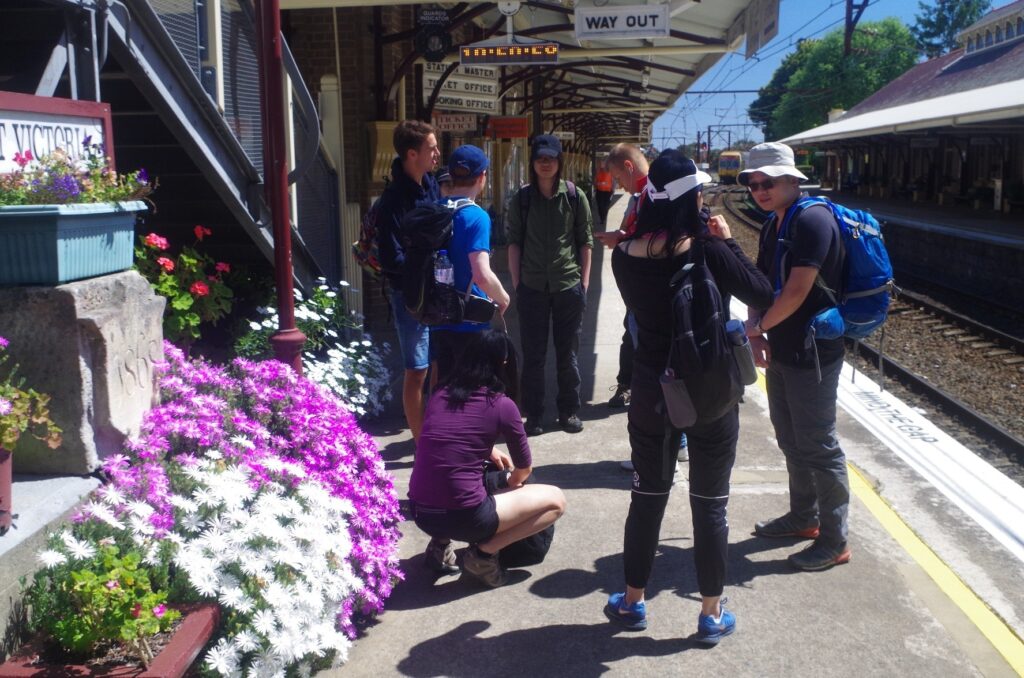 It was a good trip with 10 people (could have been 11 to complete the "eleven" theme, but someone pulled out at the very last minute due to some injury). And no "no shows".
Link to my photos: https://www.flickr.com/photos/brstafford/albums/72157697854259830 Note by the way in the last photo the plastic water bottles emptied at Mt Victoria, but partly collapsed by the higher atmospheric pressure when brough back to sea level .