Party: Nathan Barnes (leader), Luke Sinclair (sidekick), Malene, Warwick, Katrine, Michael, Hiswaty, Maj-Britt, Yinghang, Yuxin, Ben (guest)
Date: 10/09/2016
We all met at Central station and were able to get seating together on the 7:22 train to the mountains. From the station we took a quick detour to get some more water from a nearby servo (note to future trip leaders to be specific about how much water people should bring). We then began walking down to the start of our track.
The first 3.5 km was on paved roads lined with houses though it was pleasant enough. From there it was another 1.5km of dirt road through bush to the first lookout, after which it became a walking track. The track wound its way down through the early wildflowers to Glenbrook creek and then up the other side of the valley. A few slippery rocks on the creek but there was only 10m or so where there was no visible track (apparently that warrants a 5/6 difficulty on Wildwalks).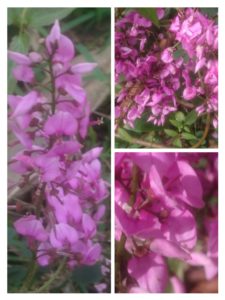 On the other side of the valley there were a few more nice views. At the intersection to the lost world we briefly split. Some took a breather while most of us went to have a quick look at the lookout. Lost world lookout has a white cross which you can see from Martin's lookout so it was nice to arrive at what we had been looking at earlier in the walk.
From lost world lookout there was about 2km more of walking track and then we were onto an old fire trail. I led us astray by assuming this was the St Helena ridge trail so turned west but we soon realized we were walking down more than we should have and backtracked our course and headed south for almost another km until we actually hit the St Helena ridge trail as such. From there it was a pleasant but uneventful walk fairly high on the ridges on wide tracks (St Helena Ridge Firetrail and then the Oaks Firetrail) to Woodford.
It was a pleasant day, though I don't think I would choose the same track again. The 4km of walking track from Martin's lookout until we got back onto fire trail was very nice but the rest of the walk was less interesting (though still some nice bush and a welcome change from the city). There was a track that headed east towards Glenbrook about 500-600 meters after the intersection with Lost World lookout which may have been better, both because it was not a firetrail and because it would have meant a bit more variety, heading back down to the creek for a second time. If anyone has done that path I'd be keen to hear how it was.