Recently we suffered the sad loss of one of our popular members, Lynsey Welsh. She began coming on SUBW walks when she was quite young. She was a schoolmate of Merinda's and she came on many of the club trips with the Turton family.
By the time she became a student at Sydney University, in 1990, she was a seasoned bushwalker. She was on the famed Ettrema Gorge trip when Max Andren was hanged, because he caused us to lose a whole precious day searching for him when he got lost. Another amusing memory was at the annual reunion when Lance Turton sneaked up on her pack and appeared prancing around Blue Gum Forest in Lynsey's nightdress.
She was the first woman president of the club and she performed the task very well indeed.
She has left many grieving friends, after cancer claimed her in February of this year.
Flora Turton 1997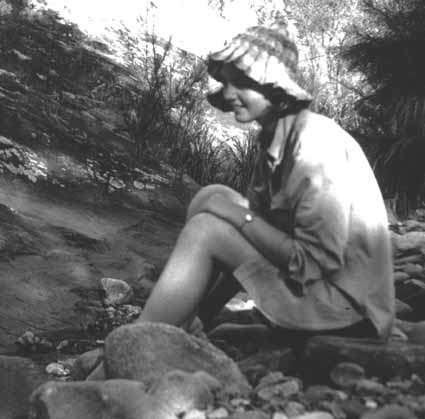 Photo of Lynsey taken during 1968 by Flora Turton.