The First Three Years
By Ian Hickson (As reconstructed from my unreliable memory and some photos)
1974
The first Presidents Annual Kowmung Bludge Trip (PAKBT) was not put on the walks programme as such, it was just that the then president (Steve Williamson) loved the Kowmung River, trout and trips that did not overly tax his fitness.
My black and white prints of this trip show the party of 6 (Col and Megan, __ and his brother, Steve and I) leaving Kanangra and getting as far as Cottage Rock before descending directly to Arabanoo Ck. The rest of the day was spent scrambling down Arabanoo, jumping small waterfalls into plunge pools and stopping to rescue trout which were stranded in small pools with our bare hands.
That night we camped on the Kowmung and ate the trout around a large fire (the start of a great tradition). On Sunday we walked down the Kowmung to Roots Ridge. It was drizzling and there were periodic stops to light fires and then have a swim. We camped near Roots Ridge and the photos show A line tents, H frame rucksacks and canvas water buckets.
The trip back up Gingra and over the tops is never memorable and I can't remember anything about it.
1975
This trip was not put on the programme as the PAKBT but as Steve had been re-elected President and as he still loved the Kowmung, trout and not overly exerting himself he once again put a trip on to the Kowmung on the October long weekend.
The trip attracted a large party of 19. Steve, Col and Meg, __ and I had returned from last year and been joined by Dave Noble, Chris and Bronny Cosgrove, Barb and Vicky Eason, Tim Herborn, Adrian Teague, Phil Young, Lloyd Flack, Ross Bradstock, Peter Woof and three others.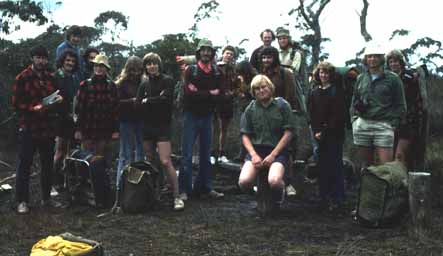 Above- The 1975 PBT party. L – R Chris Cosgrove, Peter Young, Meg Shirlow, Col Mathers (obscured), Bronwynne Cosgrove, Barbara Eason, Adrian Teague, Lloyd Flack, Tim Herborn,, ?, Ross Bradstock (front), Steve Williamson (middle), Peter Woof (back), Dave Brown, Vicki Eason, Ian Hickson, Col Southwell. Photo by David Noble
The party ambled out along the Colboyd Ridge occasionally pausing to reassemble but generally being very strung out. The Old Mole was at the rear near Bungan Gap when he heard a large animal thrashing around down in the deep gully. The Mole speculated about what sort of goat/horse/steer may be down there and then called out to it. He was somewhat amazed to receive a reply from Lloyd assuring us that the party had gone that way.
We eventually reached Christys Creek but were shattered to find no trout there and so were unable to use our high tech fishing gear (rod, reel and an 24″ spear gun). At the Kowmung there were still no trout but Steve managed to spear an eel which was cooked on the large fire. One party member produced a partly frozen chook, removed its plastic vacuum packaging and plunged it into the camp fire until the outer skin was charcoaled. He then gnawed the charcoal off the chook and returned the rest of the still partly frozen chook to his rucksack.
Sunday was a beautiful sunny day and the party liloed, ambled, waded and swam its way down through the Bulga Denis and once again stopped near Roots Ridge. A large fire, pleasant conversation and a repeat of the amazing chook cooking show filled in the evening. It was also realised that this was now an annual event, run by the President and was well worth doing again next year.
The trip back up Gingra and over the tops is never memorable and I can't remember anything about it.
1976
This year Peter Woof had been elected President and had therefore been required to organise the PAKBT. He managed to attract a party of 13 which once again included __, his brother and I as well as Adrian Teague, Steve McDowell, Roger and Vicky, Lloyd Flack, Susan Ashmore, Phil Young, and two others.
The trip went out along the Uni Rover Trail and then down Ghosts Ridge. The large granite tors on Ghosts Ridge attracted a lot of attention from the Gibberologists in the party as they appreciated a different challenge to the usual sandstone cliffs.
We arrived at the Kowmung at the Hanrahans Creek junction and camped downstream before lunch. The rest of the day was spent cascading and liloing in the adjacent rapids. On the second day we moved downstream to the base of Misery Ridge. I can't remember why we bothered packing up and moving almost 1 km but I am sure there was a good reason at the time. The day was, once again, mostly spent cascading and liloing.
The trip back up Misery Ridge and over the tops is never memorable and I can't remember anything about it.
To all those people whose names have been omitted, spelt wrongly or forgotten, I apologise.