by Peter Hatherly
SUBW mainly 1971-1974
Some form of bushwalking has always been part of my life but even now, 20 years after my time as a student at Sydney University, I can still look back and remember the trips and people of SUBW with great fondness.
At that time the club had a mixture of core walkers such as Chris Cosgrove, Dave Kelly, Jackie Franklin, Katriona Frohlich; social walkers with whom Bill Fitzgerald and Sue Kabos seemed to have a significant association; a whole bunch of those who mainly belonged to other allied clubs such as the ski club (Graeme Smith, Neil Hawthorne), SUMC (Dick Hain, Peter Blackwood) and SUSS (Jim Seabrook, Colin Mathers, Keith Maxwell); and then those who just participated for a few months. It was a wonderful loose-knit bunch of people. On any week-end, an activity of any type and any standard usually could be found to be on.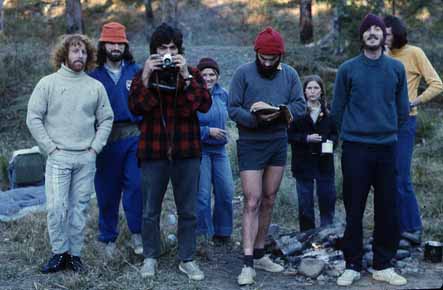 Above – Bill Wilson, Joe Mack, Peter Hatherly, Meridith Hatherly, David Hatherly, Sue Kabos, Lloyd Flack, Bill Fitzgerald, Budawangs 1974. Photo – David Noble
It was all a great experience. Trips that I went on included my maiden extended trip – to the Arthurs in 1971. As preparation for that I spent up big and bought my first Pallins H-frame (the Mountaineers Deluxe with the PVC reinforced bottom), an oilskin, a mountaineers shirt and an Alpine sleeping bag. Look out world, I had arrived! However, not for long. First there was the disappointment at finding out that my oilskin leaked when I was hosed down in the backyard and then there was the three days I spent in a leaking tent on Goon Moor with Dave Kelly for company, progressively getting colder and colder as my sleeping bag got wetter and wetter. In the other tent, Jim Seabrook, Roger Lyle and Meredith Brown were doing just fine!
There were great Easter walks – one Easter walk with 18 people to the Snowy Mtns, the Warrumbungles another year and also one to the Blue Breaks which Jim Bradley reported on at the time of our last reunion. Returning from the Snowies Michael Pluschke's LandRover blitz wagon with 12 people in the back stalled at night in the middle of the flooded Menangle Bridge. Not fun at the time but certainly a memory that sticks. Yerranderie and the Kowmung were familiar territory. Colin Mathers nearly wiping out skidding on a muddy road at Shooters Hill, four of us in Jackie's mini (including Jim Seabrook) on a trip to the Budawangs, Dick Hain reworking the ground clearance of his Renault 10 by running clear over a wombat. The epics and heroics might have been out in the bush but it seems most of the risks were taken getting to and from the mountains.
Then there were the social occasions – was it a 25 year reunion on the Shoalhaven, something else at Euroka Clearing where there was a keg of cider and then parties, mainly at Jackie's. My memories of these are more hazy.
All up, it was a wonderful time. I don't know where we found the time to study (and of course some of us didn't). Thanks to those who were part of my experiences. Over the years I've kept in touch with a few and had plenty of good times with them. We often have a good laugh, mostly at others' expense about what we got up to.