by John Paynter
Report on trip to Glen Davis by SUBW on 18, 19, 20th October 1963 (from SUBW Logbook 3)
With John Paynter, Alan Paynter, Dave and Barb Darmanin, Peter Hinton, Caroll Mills, and Alan Rae.
We met Alan Rae as arranged at Capertee, north of Lithgow on the Friday night. At a spot Alan had selected we spent a fairly comfortable night in the tents listening to steam trains at the very nearby station. We had no idea so many trains passed this way especially at night.
Driving down the Capertee Valley in the morning we stopped occasionally to photograph the impressive Pantoneys Crown Mountain and Mt Gundangaroo, both mentally noted and filed for future club trips and both involving some rock climbing to be sure.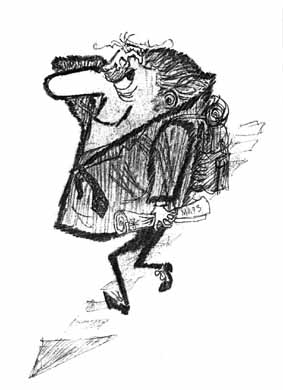 Glen Davis is a town of the past. Only a few of the thousands who once lived there now remain. The shale mining and petrol refining which were carried out during the war years ceased completely some 15 years ago. All the movable equipment has been sold and large buildings now stand in ruins. We took many photographs here and decided it would be an ideal location to shoot a war film.
It was a hot day and we did not walk far, about 2 miles all day. After a swim and lunch by the narrow river we all lay down on the grassy bank and fell asleep. We moved off again at 4 pm, travelling north up Running Stream Creek. Not much remains of the old coal mine which once supplied the refinery and the mine shaft like others in the area has collapsed only a short distance from the entrance.
Scrambling down over the rocky creek we made camp on a grass flat some feet up the other side and began to prepare our evening meal. Space does not permit the inclusion of a list of dishes consumed on that delightful evening, suffice it to say that we dined well, if not sumptuously. Having finished with plum pudding and custard (the latter by courtesy of Dave and Barb), I lay back in my sleeping bag and managed to observe a falling star or two, or satellites I cared not which, before falling into a deep and peaceful sleep.
Next morning we awoke, none too early and broke camp, after a light breakfast of sausages and eggs, peanuts and Roggenbrot, at about 10 am thus keeping alive old club traditions which might otherwise be lost forever. Whilst we were packing we had sung again our song, the composition of which had only been completed the night before:
Roggenbrot adds to your fun,
Roggenbrot is number one,
Roggenbrot it glues your tum,
Roggenbrot, yum yum, yum.
We left the creek almost immediately above the camp and climbed the ridge. Several rests were necessitated by the steepness of the terrain and the oppressive heat. However fine views were obtained of the narrow valley below and shear rock faces hundreds of feet high directly opposite.
Reaching the top we decided to drop into the nearest creek on the other side. It was mid-afternoon and the creek we had first decided to descend was still a great way off. The creek we followed soon narrowed down until we began to doubt its accessibility. We had one abseil before lunch. The heat was increasing and thunder sounded, as we ate our Roggenbrot & Cabanossi (sausage). We had visions of ourselves being washed by a wall of water over some thousand foot high waterfall at the end of the canyon. As it happened only a few drops of rain fell and the one rope was sufficient over 4 or 5 abseils. Whilst engaged on one of these I found myself standing in the top branches of a tree. As it bent under my weight I walked down the trunk till suddenly it snapped, leaving me again dangling in space a few feet above the ground.
The last abseil was quite interesting also. Chimneying down between smooth walls one landed in a pool under a huge chock stone. Here the rope was passed round a wedged log and over a small waterfall. Dave went down first to survey the route ahead from a sand patch below. A large rock provided an anchor for a hand over hand slide on green slime covered rock. Peter Hinton for some reason (something about being last and having to untie a knot) decided to do this last section facing inwards, his canyon shirt front becomming somewhat soiled in this unorthodox action. The last obstacle: my brother Alan pioneered a 12 foot jump onto a small patch of soft sand between big hard rocks. Further rock-hopping brought us out onto green slopes immediately above the ruins and we chased a few cows, horses and sheep belonging to local land owner Mr. Webb on our way back to the cars.
As this may well have been the first descent of the said canyon we respectfully submit for the consideration of future map makers the name of Roggenbrot Canyon (The payment of royalties is being negotiated with a Continental Health Bread manufacturer).