The discovery of Thunder Canyon in 1960 by Col Oloman's party was a turning point in the sport of canyoning. Up until this time few sandstone canyons were visited by bushwalkers. With the impetus provided by the discovery of Thunder Canyon further exploration was undertaken. Shortly after, other canyons were found to lie both in the Carmarthen Labyrinth and beyond. What follows is the original SUBW logbook account by Col Oloman of the epic trip where Thunder was discovered together with a modern account of the trip by Gerry O'Byrne. In addition, the third member of the original trip, Dick Donghey, has added some general recollections of this trip and others.
Walks report by Colin Oloman (from SUBW logbook No 1)
From Richmond we hitch – hiked (slow road) to Mt Charles reaching this place at about 5.30 p.m. We found a good cave and camped for the night. This cave is on the northern side of the road directly across the road & down the hill about 30 yards from the "Mt Charles 3,080 ft" sign & has accommodation for 3 easily, for 4 or 5 at a squeeze.
We left our cave at about 6.30 a.m. on Saturday morning & set off along "Lightning Ridge" (see map). This ridge is about 2 miles long and easy walking. We reached the end of the ridge & walked down as far as the contours on the "Katoomba" map go with no trouble. However the ridge ends (at the junction of two unnamed creeks) in a 200 ft cliff that forms one wall of a good sized canyon – this the map doesn't show, although a careful scrut' of the 3-D photos at the Land Department partly reveals the canyon. 50 yards up the creek to the right a small tributary runs in (falling very steeply). Around here are some convenient belays that allowed us to abseil onto a decent ledge half way down the canyon & another good belay took us to the bottom (we used 2 lengths of 120 ft nylon joined together; 1 length would not be sufficient here). Unfortunately the bottom of this canyon was a deep dark pool of cold water, (probably full of primeval monsters) into which we each dismally lowered ourselves after spending five minutes suspended 2 feet above the water kicking the air, vainly trying to reach an insidiously placed rock ledge.
From this pool we made our way to the junction (mostly swimming) & set off down the canyon. This canyon we propose to name "THE THUNDER CANYON" (Thunder canyon, off Lightning Ridge, also rhymes with "chunder" & goes "Boooorum" when large articles are dropping in from cliff top). We travelled at most a mile along the Thunder Canyon walking and swimming for almost four hours and had to abseil down two small waterfalls (~ 20 ft) before evening when we were forced by exhaustion & cold to camp at the first decent spot we reached. It rained intermittently all of that day and thus, added to our frequent long swims, added up to give us a lot of wet food & clothing. At the same time most of the available timber was dripping and we spent two desperate hours before dark searching for dry wood & putting up our tent on a patch of sand. Finally we got a decent fire going & thawed out. We vainly attempted to dry out Dick's sleeping bag (completely soaked ) & stood around the fire with our pants down, trying to get at least something dry to sleep in. (Lots of glow worms on Canyon walls.)
Sunday morning (7 a.m.) saw us faced by either a cold swim down the canyon or a long & rather tricky climb out via a small tributary on the right hand side of the canyon. We chose the climb (what would you do at 7 a.m.?) and spent about 2 hours dragging ourselves & our packs onto the ridge & into the wonderful sun. Another 2 or so hours took us to the end of the ridge where we lucky enough to find an easy way down without climbing the cliffs which had appeared looming up inevitably on either side.
By following the ridge straight down the centre we missed the cliffs and reached the creek junction by about 2.30 p.m. Incidentally, Dick had sprained his ankle on the ridge & we had then stopped for dinner. From the junction we walked on down the creek. There is no canyon here but the walking is difficult – similar to the lower Grose. We did not find a way past the cliffs until we were almost opposite Tomah Creek and by now it was time to camp. This night we had an excellent cave about three hundred yards back from Tomah creek under the cliffs to the right (facing downstream). Here we had plenty of dry wood & spent a good night eating good hot food & drinking coffee, beginning to feel like contented bushwalkers. We sat round comfortably in underpants & bare feet & told each other complacently how dammed glad we were to get out of that xxx ……!.. canyon.
Next morning we were on foot by about 7 a.m. & an easy little climb took us onto the ridge opposite Tomah Creek. We climbed this ridge to the peak above the Grose (downstream from Mount Caley) and looked back on the way we had come. The country behind us was indeed rugged. The creeks, either hidden in canyons or tumbling over boulders amongst luxurious jungle type growth, are invariably surrounded by high cliffs. The fairly intricate system of creeks thus makes it very difficult to travel over this country and we wonder how many people have investigated this area before, since it is excellent for a good tough walk & never mentioned in bushwalking circles.
From our first peak – looking over the country we had just left – we crossed a thin causeway to a peak that overlooks the Grose and climbed down a prominent ridge to the river. As is well known the river is surrounded by high cliffs in this area but by making for a small tributary on the left of our ridge (facing down) we were able to navigate to the river without using ropes. We hit the river at about 11 a.m. & had a welcome swim & some food. By 12:30 we were on our way down the Grose to find the way out to the right- this came a little before the junction of "Tomah" Creek & the Grose (N.B. we had struck the Grose about 1 mile upstream from this junction). It took some time to walk up this ridge as it entailed a series of annoying small "packs off" climbs. However we reached the top by 3 p.m. had some food & set off for Mt. Hay.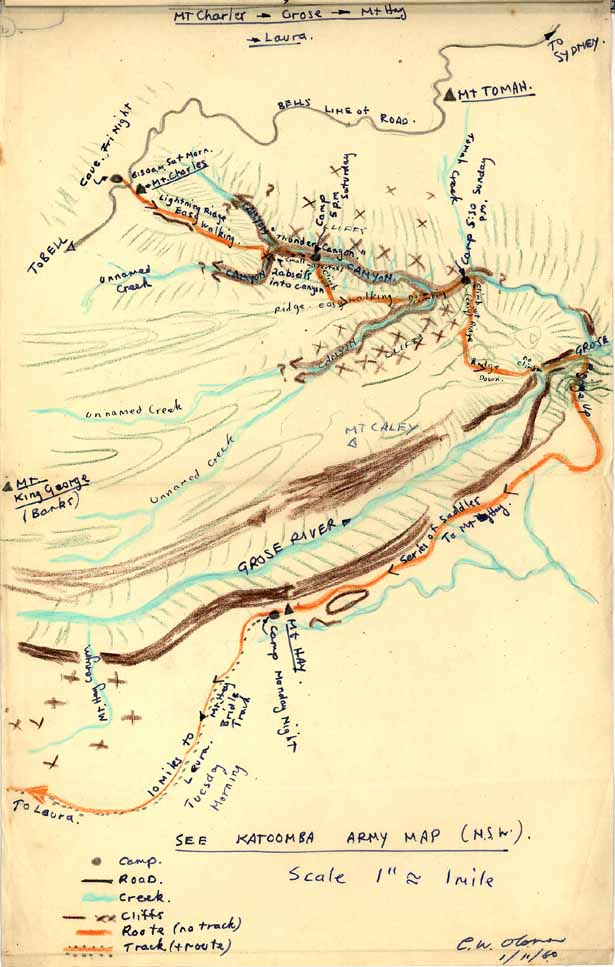 The course to Mt. Hay was fairly simple, and consisted of following a series of ridges & saddles (none of which fall more than about 100 ft) above the cliffs along the edge of the Grose. The route can be quite easily picked out on a contoured map and apart from the initial "detour" always lies close to the cliffs. One point to note is that the last hill before Mt. Hay should be ducked & a contour bash made around under the cliffs to the right hand side of this hill, otherwise one finishes up on top of a nasty rock and has to back peddle (luckily we didn't do this). As we reached the last saddle leading to Mt Hay the sun was beginning to set. The rain that been with us for the last hour ceased, and although a strong wind kept blowing we were in good enough spirits to rest on a rock and witness the scudding clouds light up in a glorious pink, with the gold spread over the cliff faces around us. It was about this time that we made our optimistic plans in which we were to reach the top of Mt Hay on dark and force ourselves on along the "bridle track" the last ten miles to Leura, arrive just before the pub closed and quaff (to quote)
Dick, "1 pint of lemon squash"
Jerry "1 pint of black & tan followed by Brandy & Ginge"
Myself "1 middy of Old followed by O.P. Rum, ah"
We reached the top of Mt Hay, blundered on until we found the trig. and to our dismay (to say the least) found no track ("xx.&&.%##@xxx"). Drawn on by the thought of the above we stumbled around in the half light on chunderous grass-covered rock piles searching for the "track". To add to our pleasure it began to rain again so that after we had nearly fallen over a series of terrifying precipices we decided that this was no place for little boys to be wandering around in the dark, even if there was a warming grog to be had 10 miles away. Here we found a flat piece of ground next to a rock "put up a tent" (ha) and stuttering from cold, crawled into our sleeping bags, ate a few handfuls of dry uncooked rice, 1/2 oz cheese, 1 slice bread and fell asleep. We woke up when it began to rain heavily ( I remember opening my mouth to snore & being almost choked by a falling hailstone ), our sleeping bags were soaked and we spent the rest of the night reminding each other that "God does indeed work in strange ways" & mentally calling a thousand Devils upon Mount Hay and its blasted Bridle Track. After a breakfast of dry rice we found our track not far from the camp and followed it with a little difficulty to the Pinnacles. Here we had the last of our coffee and then made for the road to Leura with light hearts.
Reaching Leura at about 2 p.m. we immediately quaffed our quaffs, ate much bread & cheese & jam, quaffed again (anon to that) and began to hitch hike. Happily we got a lift together with a good bloke from Melbourne & were home in time for tea.
Colin W. Oloman
for
" The Three Prominent B—–s"
P.S. A good hard walk, would encourage anybody wishing to see some different Blue Mountain country to try the Thunder Canyon area – but take plenty of rope.