by Denise Black and Carol Isaacs
Back in the 1960's, there were a spate of 'marathon walks'. The most popular routes were Kanangra to Katoomba and three peaks in the High Gangerangs (Guougang, Paralyser and Cloudmaker). These trips were mainly undertaken by the blokes. In 1966, we decided to make an 'all girls' attempt on the three peaks in 48 hours. Our party included the late Wendy Butler, Flora Turton, Rae Sheridan, Kerry McKinley and Denise Black. On the same weekend, Athol Abrahams and Dave Dash succeeded in an attempt to do this trip in 24 hours. We ladies had navigational difficulties and piked out after climbing only Cloudmaker, because by this time it was clear that we could not possibly meet our goal (but we had a great time anyway!)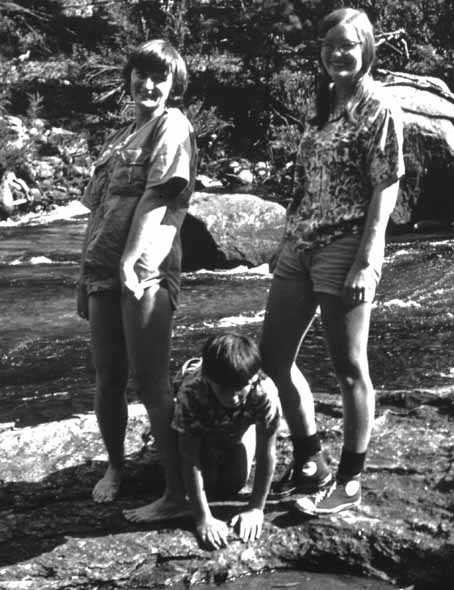 Above L – R Denise Black, Lowan Turton, Merinda Turton 1967. Photo Flora Turton.
A few years later, Carol Isaacs (nee Pereira) and Denise Black decided to launch another attempt. This time, we went in the reverse direction, deciding that it would be easier to navigate off Mt. Cloudmaker to the Cox's River than from the Coxs to Cloudmaker. For both of us, most of the route was new territory.
The challenge was this: to walk Narrowneck – descend to Megalong Valley via Carlon's Chains – Breakfast Creek – Coxs River – Mt. Guougang – Mt. Paralyser – Mt. Cloudmaker – White Dog Fire Trail – Taro's Ladders – Narrow Neck in 48 hours.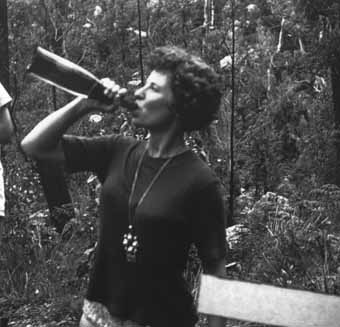 Carol Periera (Isaacs) at her 21st birthday party held in the bush. 1970 . Photo Flora Turton.
We had no support crew. We travelled from Sydney by train by ourselves and we were totally on our own during the whole trip. After we had left Katoomba, we saw no-one on our journey.
We carried minimal weight in our rucksacks – sleeping bags, parka, jumper but no tent; food, but nothing requiring cooking. Denise had learnt on the earlier 3 Peaks attempt that sugary foods such as chocolate were not sufficient – the body asks for protein. So she carried tinned Camp Pie and was really glad of this at our camp on the second night. Carol, without this earlier experience, carried chocolate – lots of it. She remembers being almost ready to kill for the rim of white fat around the inside edge of the Camp Pie can. In retrospect, we should have carried more fat and carbohydrate.
It was dark when we started along Narrowneck on the Friday night, after walking from Katoomba Station. We descended to Carlon's farm in the Megalong Valley via Carlon's Head. This was a bit of a challenge, as neither of us had been down this route off Narrowneck before, but we successfully negotiated the fixed chains on this cliff-face descent in the dark. Walking by the light of bike torches suspended round our necks by nylon cord, we reached our planned camp at the junction of Breakfast Creek and the Coxs River in the wee hours of the morning. Here we napped for a few hours.
At first light, we broke camp, crossed the Coxs River and made for Mt. Guougang. The climb up over the Krungle Bungle Range was very long and slow and very scrubby. On the narrow ridgeline of Mt. Queahgong, we discovered a recent plane wreck. One wing was poking up out of the side of the ridge. The surrounding vegetation was burnt and the fuselage was just a lump of fused metal. Carol remembered that this plane had crashed about twelve months prior to our trip and it had taken the police a long time to find it. Navigation was easy to the top of Mt. Guougang. We found the cairn and had a brief rest and some chocolate, before descending via the very steep Nooroo Buttress to Whalania Creek, where we filled our water bottles. From here, the route took us straight up Mt. Paralyser. Darkness fell when we were on the descent, luckily, at a fairly level spot with plenty of firewood. Here we lit a fire and ate our Camp Pie with great gusto. Then we dossed down in our bags under the stars.
The next morning, we descended quickly to Kanangra Creek and then up the ridge from Thunder Bend to the top of Mt. Cloudmaker. The route to the Coxs River via Gentles Pass required careful route-taking, as there was then no track or footpad. Carol remembers enjoying the effort of having to navigate this section. Three peaks having then been climbed and descended, there remained the fourth climb out of the Megalong Valley, back onto Narrowneck. This involved a long and tiring bash up White Dog Fire Trail and the ascent of the cliffline via Taro's Ladders at the extremity of Narrowneck. We plodded on, reaching the Katoomba end of the Neck in just over 48 hours – 48 hours and 15 minutes to be precise. There were no witnesses other than the birds, but that's what we did.
We walked in to Katoomba Station, only to find that we had missed the last train. Lying down to rest in our sleeping bags on the benches in the waiting room, we were surprised to find that our heart rates went up over 100 beats per minute and stayed elevated for some considerable time. A sympathetic waitress from a coffee lounge in Katoomba St. brought us mugs of hot chocolate. Finally, we caught a lift to Carol's home in Faulconbridge with a station attendant when he went off duty.
It is interesting to note that this trip involved about 400 metres of ups and 400 metres of downs, over a distance of approximately 80 kilometres. In the sixties, our entire route west of the Coxs River was trackless. Carol still has painful memories of lots of Mountain Holly (Oxylobium ilicifolium). These days, the Mt. Cloudmaker area is fairly heavily walked and footpads have formed.
We would be interested to read about any 3 Peaks trips by women since this time, how long it took and whether the same route was taken. Also, can anyone explain the heart rate elevation?