by Max Eden
Mar 30th – Apr 1st. (or the Birthday Party)
Walks report – from SUBW Logbook 2
Bods: John Paynter (boss), Elizabeth Scott, Helen, Dave Dash, Sue Coombe, Carl, Carol, Brian & y.s.
Friday nite
Dave, Sue & I left Windsor about 7.30 & after a draughty ride (for Dave) to Richmond, got the traditional lift right through. We blundered around Clarence for a while looking for the station, which we found by uttering cooees & various animal noises into the night & waiting for an answer. Liz, John & Helen were there, Helen having come up by train. We spent the night listening to the goods trains go past accompanied by a railway telephone which rang about every 1/2 hour.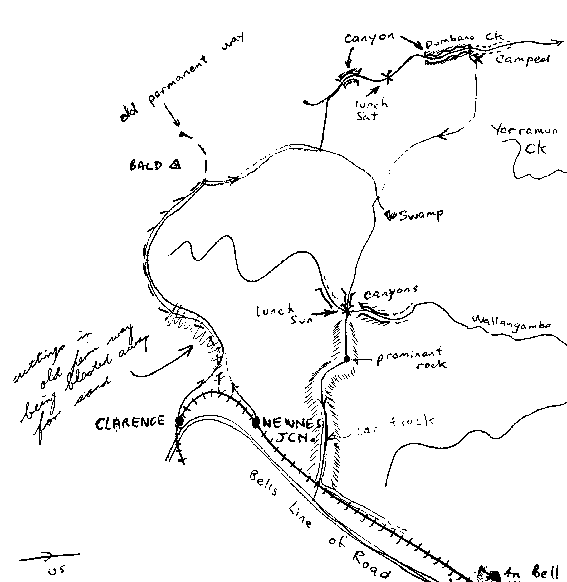 Saturday
Got up 6.30 or thereabouts — no-one brought a watch. John dropped in on Carl, Carol & Brian over at Newnes Junction while the rest of us thought about getting up. We had breakfast on the station much to the disapproval of guards in passing trains. Hit the road pretty early & met up with the others 1/2 way to Bald. Carl did his good turn for the day by letting off all the dingo traps we came across. Left the road about 2 miles east of Bald & chundered off into the chunder. Soon we came across the makings of a creek which we followed down only a short way before we were confronted with a real live canyon. Here we donned costumes etc & put things in plastic bags which Dave invariably found too small. The canyon, although quite spectacular (50 to 100 ft high, 4 ft wide) was only short & soon the creek opened out & we were up to our ears in some of the thickest river growth I've ever seen. In some places the creek disappeared under a rockfall & we clambered over the top, in others we had to squeeze through tunnels with the river. Had lunch about lunchtime then back to the grind. Ever keen to use the rope, John did a "classic" with the excuse of showing Helen how to abseil but there was no place where we had to use it. About 4.00 pm we got into Canyon country again & this time had to wade/swim for 1/2 mile. At the end was a cave so had a big confab as to whether we should stop or not, the "stops" winning when Dave announced that he's climbed out. We all went upstairs & with Carol in the broommaking business, set up camp. Prominent engineer Dave Dash constructed a water hauler upper by tying a billy on the end of the rope. It naturally worked — to the surprise of the sceptics. Much discussion of taboo subjects after tea.
Sunday
Due to certain members having birthdays yesterday we found an abundance of balloons in the camp so spent the best part of the morning chucking rocks at balloons floating down the canyon. Also much gibberology & aircraft construction took place. We still weren't too sure which creek we were on — Dumbano or Bungleboori so we gave away the idea of following ridges & set off in a generally southerly direction. Thanks to some pretty good navigating by John we skirted the upper reaches of Yarramun & stumbled onto the road about 3 miles east of Bald. Thence via an abseil, which is avoidable, into the northern arm of Wollangambe. Here we had lunch on a really beautiful creek — crystal clear water flowing over a white sandy bottom. Churned up the other side about 4.00 pm & up a bare windswept ridge to a prominent rocky outcrop upon which we contemplated. This having been done we followed the ridge back to Bells Line of Road. Nine thirsty bona fide travellers pointed their noses towards Bell & set out in eager anticipation. What a blow when we were told they don't serve beer on Sundays. Anyway we consoled ourselves with warm cider and Nestles chocolate before the final leg of the journey home.