by Rick Higgins
I've waited 37 years to confess. The guilt has been unbearable.
In 1959 I organised my first big trip, to Federation Peak. The guilt? I did it as a schoolboy but I used Sydney University to get the Tasmania University Bushwalking Club to host it for us. The deception. I was an SUBW pretender … But it was the stuff that dreams are made of. No money for air drops. No roads in the SW then so we walked over Mt. Picton, and thoroughly enjoyed it.
I don't remember where we went on my first real SUBW trip, but I do remember that Col Oloman was the leader. I was in awe, and I was hooked.
In 1960 SUBW was the greatest place on earth to start bushwalking. Since then I've always been a "bushwalker". Canyoning, rock climbing, hiking, caving, canoeing, kayaking, alpine climbing, mountaineering around the world for 35 years. But it's all bushwalking to me.
In the early 1960s we tried everything. As bushwalkers. The specialty boutiques (SRC, River Canoe Club, SUSS) — bah! Trapped as victims of their own limited imaginations. We were "bushwalkers". And students. Invincible.
For six years, most weekends, and all of our vacations, we went at it. Don't hold me to dates, but oh the memories!
The GUN trip. Around 1960 (or was it 1961?) Warwick Beddoes, Gerry O'Byrne, Bob Masterman and I bushwalked (with a bit of hitch hiking thrown in) from Feathertop to Kosciusko via Hotham and Quombat Flats. I remember that name as I named my home made canoe Quombat when we canoed the Snowy River from the top down a year or so later – recorded in an old Australian Geographic article circa 1963. The whole trip was amazing, but a real highlight was the "gun". Someone had brought a gun along. Wasn't me. But we did put it to use that first night at the old tin hut on Feathertop. The pack rats took over with incessant noise every time the lamps went out. Two of us couldn't sleep, so in the dark we plotted the demise of those rats. All four heads were together on the two bunks. I spot lit the area next to the fire place where the rats were busy. Huge rats. Man eating rats. Warwick (or was it Bob?) took prior aim in the dark. My torch went on. The gun went off. The tin hut exploded. Our two sleeping comrades exploded. The plot was unveiled. The rats were unharmed, but quiet … for at least 3 minutes. And the SUBW gun remained silent thereafter.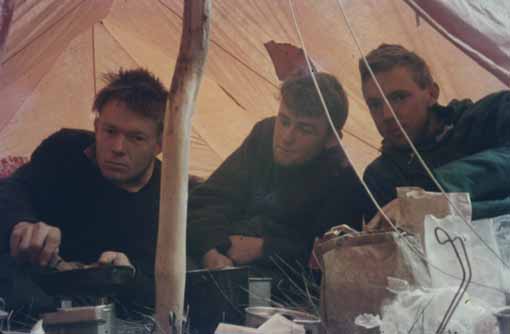 Above – Rick Higgins, Gerry O'Byrne, Bob Masterman on the "Gun Trip". Campsite just north of the Upper Indi River. Photo taken by Warrick Beddoes, Gerry O'Byrne collection.
About that time they started building fire roads to the Wild Dogs. Protests aside, the roads appeared. And so it was that Rick Jamieson of SURC volunteered to get the oldest Ford on earth to Medlow Gap.That weekend eleven of us crammed in, on and around Rick's Model T and set off down Megalong, past Carlon's. All was well, except for the hills, but at least Rick got to ride. Then we hit the swamps. And what swamps they were. Maybe we were lost. Maybe we were at Mob's. But eleven SUBW and SURC bushwalkers with a Model T were masters of the night. Mudded and soaked we heroically cheered and sang our way into Medlow Gap at 2 a.m. Certainly one of the oddest groups ever to reach the Wild Dogs.
But what about real bushwalking? Plenty of that. I hear Col Oloman is writing on the canyons. Almost every weekend through the summers we did a canyon. And if they weren't new then at least only one or two parties had been there. We swapped notes and ideas with our friends in the other clubs. And when we started on what we then called the Newnes Canyons – Dumbano System etc. – (i.e. the other side of Bell's Line) we discovered the key "gate" on the Forestry roads. The authorities were somewhat accommodating with access, but that meant going to Lithgow first. So we devised Plan B; a hacksaw and our own padlock. Eventually the word got around, and a year or so later the chain on the main forest access road gate consisted of some 20 linked padlocks.
And then there were the tough ones. At some stage we got into doing 3 and 4 day trips in 24 hours. The usual tut tuts that I still see in outdoors mags. Of course the standards go up and the times come down. But we thought we were pretty good then too. On our first 24 hour walk Ray Jerrems and I set out for the Three Peaks. We did make it from the Katoomba Cliff Drive at Narrowneck to Cloudmaker in 6 hours and 3 minutes, but I'm not sure Ray ever forgave me for wasting those 3 minutes on the uphill from the Cox when we got a bit lost in the rain and mist. But that trip was to be more than a mere walk. It was to be an educational experience. We allocated the first eight hours in four 2-hour blocks. Ray had two hours to explain his knowledge of law to me. I had the next two hours to explain my knowledge of economics to him. Then came two, 2-hour blocks of questions, cross-examinations and challenge. I hope Ray made a better solicitor than I an economist; my greatest contribution to the dismal science being that I never practiced my trade. I have forgotten what we discussed in the second 12 hour slot, but I do remember taking the wrong ridge coming off Quouagang and grabbing a few hours nap wrapped in Bert Carlon's horse blankets at the Kanangra Creek-Cox Junction, and then scratching for a week.
In 1964 (or was it 1965?) we did a winter traverse of the entire West and East Arthur Ranges. This time we had air drops. But we were thwarted by flawless weather. Four of us – Ray Jerrems, Walt Logeman and Fred Kitchener (from SRC) went to tackle the worst that Australia had to offer and under the worst possible conditions. Imagine our chagrin when every single winter's day was perfect sunshine and very little snow or ice. Probably one of the best peak bagging trips in recorded history. We went up and down everything. Only youth would feel cheated as we did. Where were you snow. Where were you ice and sleet when we needed you. We climbed everything in strict order from West to East, and then arrived back early with nothing but gorgeous weather slides.
We were not without our interest in civilization, however, and over the years we developed an active program delving into Sydney's monuments. Some of our memorable cultural evenings included our "ESR" evenings, spelunking in the old tunnels of the then long forgotten Eastern Suburbs Railway (which one entered through the corrugated iron gates near the Cahill Expressway behind the Art Gallery). The stagnant pools, Morton Bay stalactites and the old wooden scaffolding somewhere under Martin Place were representative of a culture and triennial polity now, alas, long gone.
And there were the clock towers. John Davis (UNSW Chem Eng and SRC) and I spent a good hour one Sunday evening with our noses pressed into the pigeon pooh on the ledge around the Town Hall clock tower while Sydney's finest assembled beneath with lights flashing to solve the mystery of the pigeons' vol de nuit. Later, after masking the face of the clock with some student publicity banner the fog came in and we performed what was probably the first abseil from the clock face down the entire front of the Town Hall, and coiled our rope at 3 a.m. on the main steps. We dutifully reported the event to the press, on the understanding that they would advise the authorities after they had taken their early morning photos.
This was one year to the day after we (same two) had plastered 6 foot high black foot prints down the NW pilon of the Harbour Bridge. And across the road to the Olympic Pool. We were protesting Apartheid in South Africa … I think. At noon the next day we returned anonymously to offer advice on solvents to the bridge crew, but they apparently had higher knowledge of what the glue was (starch and industrial molasses, for the record) and hence the shadow of those prints survived another four or five years.
And of course there was the social calendar. Predictable and otherwise. St. Ninian (Melville) was the wonderful major domo in charge of Search and Rescue. Straight out of Somerset Maugham — and even more wonderful in real life. Nin ran the State Mapping program (I think) by day, but he really came to life when there was a rescue or a practice rescue. And what fun they were. Dick Donaghey's rescue up Kalang Falls was one great time. I was climbing across the falls with Dick (his second or third crossing with the pack of someone less confident) when he fell. That rescue has been well recorded. But what is less known is that was when I met Dave Roots and became life long friends with John Davis.
And there was Terry Thomas' rescue. We "made" Terry ride on that stretcher as we had marshalled half the bushwalkers in Sydney and they were not about to be disappointed. That went down as the second Triumphal March.
Finally and with great predictability and gusto there was the annual Bushwalkers Ball and Strip the Willow. Is that still a tradition? Well maybe, but it couldn't possibly be as good now!
So many many great memories. What a wonderful way to start one's adult life. Thanks SUBW and all the friends I made then. We're still bushwalking somewhere around the globe every year.