by Colin Oloman (SUBW 1957-61)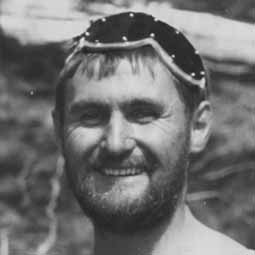 Above – Col Oloman (with ski goggles) circa 1961. Photo – Gerry O'Byrne
This is a brief and nostalgic record of a few SUBW trips to canyons in the Blue Mountains during the period 1957 to 1962. In that time I was studying chemical engineering at Sydney University and was both a member and sometime president of SUBW. Since 1963 I have lived in Canada and returned to the Blue Mountains only three times to visit my family in Lithgow. Now I can not remember the details of those good old days in the SUBW. I forget specifics of the "when" and I am sometimes unsure of the "who", but I do mostly remember the "where".
I remember Arethusa, Bungleboori, Colo, Danae, Davies, Grose, Kalang, Kanangra, Kowmung, Nayook, Thunder and Wollangambe. I remember Cloudmaker Banks, Guouogang. Strongleg, Thurat, Tomah and the Wild Dogs. I remember misty treks along Narrow Neck and waking in the Clarence railway station on drizzly mornings as steam trains clanked up from the Zig-Zag. I remember bashing across the trackless, prickled plateaus of the Wollemi wilderness I remember firelit sandstone caverns where sleeping bags and shirts were dried after swimmimg the canyons. I remember crisp nights on windy ridges, with the leaves of the eucalypts flashing silver in the moonlight. I remember lying on a frosty groundsheet by the fire in winter camps out by Yerranderie. I remember wandering among the she-oaks down from Galong to the Cox's and the evening call of the currawongs over Capertee.
During my four years at Sydney University I took SUBW trips to many of these places and went alone to many others – but I never wrote a trip report until now. So here are my belated memories of some of those trips. I forget dates and names – if you were there please excuse me if I misspell or don't mention your name.
To start I should record that in the late 50's we still used manila (hemp) ropes, nailed boots and steelworkers' woollen shirts to brave the chill shadows of the canyons. I recall the first time a Nylon rope appeared on a trip, all kinky and white and too thin for a decent body rap abseil. Lugged rubber soles (Vibram or the like) were beginning to appear around that time too, I think we first used them about 1960. To negotiate the pools we lined our rucksacks with plastic or oiled japara bags, sealed in our gear, and kept them on our backs for flotation as we swam above the inky depths. We used Paddy Pallin's packs and floorless yellow japara tents which weighed about 3/4 kg. For abseiling we each carried a hemp sling with a steel locking carabiner. The sling was used as a cradle and the rope passed through the carabiner then over the shoulder for friction a woollen shirt and japara anorak were necessary to avoid a nasty rope burn on the neck.
We were fortunate then because many of the Blue Mountains canyons were still unexplored. To find canyons we used to pore over aerial photographs with 3D glasses looking for telltale shadows in creek beds where shadows should not be. Waterfalls are usually hidden in these photos and we worried about the possibilty of being trapped between two waterfalls, the one above unclimbable and the one below too high for our rope. To guard against this eventuality we carried two 120 ft ropes on serious canyon trips.
A large group (in retrospect, too large) of us went to the Kanangra gorge (sometime around 1959 – I think). Some of the members of that group – as I incompletely recall were – Warwick Beddoes, Gerry O'Byrne, Bob Masterman, Don Westaway, Peter Scott, Liz Scott, Dave and Barb Darmanin, Sue Coombe, Pete Hinton, John and Leoni Paynter and of course, Dick Donaghey. We bypassed the major Kanangra fall by scambling down a steep scree and then abseiled some large waterfalls as we proceeded slowly through that fabulous canyon. Late in the day our doubled ropes jammed at the knot after a long abseil. The ropes were recovered only after four of us yanked on one and broke it at the anchor. In the delay a few of the party downclimbed a short greasy pitch to the platform above next waterfall. Dick Donaghey slipped on this greasy section, fell about 30 feet and broke his leg. As Dick would surely say, it is not convenient to have a broken leg in the bowels of Kanangra gorge. We assessed the situation, two (Warwick and Bob?) volunteered to try to climb out for help up a precarious ridge, some continued down the gorge to climb up via Kanangra Walls and the rest of the party stayed with Dick in the canyon overnight.
The next day set the scene of one of the first major canyon rescue operations in the Blue Mountains. The Sydney Rockclimbers came to our aid, along with various contingents from the bushwalking fraternity, including the fabled Dot Butler. Some local policemen peered into the gorge and decided that they really did not need to see the actual site of the accident. Dick was retrieved up the rock face on the back of one of Sydney's top climbers, then slung on a stretcher and hauled from tree to tree to the top of Kanangra Falls. That day gave pause to many of us "canyoners" and made us realise that we needed to learn some rockclimbing and rescue techniques.
Later, about 1961, Gerry O'Byrne and I did what may have been the first descent of Kalang Falls – at the left end of Kanangra. Of course we (SUBW) also did trips down Danae Brook, Davies Canyon and the upper Kowmung – but these were established routes in the late 1950's.
The most interesting area of the Blue Mountains at that time (at least to me) was that between the Grose and the Colo rivers. This area is well travelled now but in those days it still had an aura of mystery. The access was from the Bilpin road ("Bells Line"), Mt. Wilson and the line from Clarence to Newnes. The road that wound over Mt. Tomah showed glimpses of vine tangled darkness that promised hidden "spon" but noboby seemed to have ventured into these recesses. Part of the reason for this inaction may have been that there was no train to Mt Tomah and motor cars were not a common item among bushwalkers in those days.
About 1960 I was with an SUBW group that found its way to Mt.Wilson and did what may have been the first "swalk" through the canyons of Wollangambe Creek. I think that Liz and Peter Scott were on that trip, along with Peter Hinton, Gerry O'Bryne, John Paynter and several others. I recall long days wading and swimmimg through dark slots, with wild quince trees in, sun dappled ampitheatres and red crayfish scuttling from our boots. The nights were spent yarning around fires in sandy caverns, with glow worms glinting down along the next mysterious bend in the canyon wall.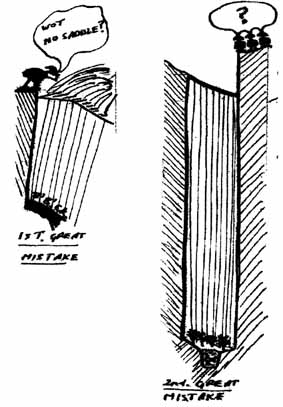 Above – Encounter with the Bungleboori Canyons, 1960. (From SUBW logbook 1)
Somewhere around 1960 a small SUBW group (Bob Masterman, Peter Scott and I) took off from Newnes Junction and spent one week walking over the Bungelboori country to the Colo River. It was a great trip in which we encountered several anonymous canyons and others whose names I have forgotten. This was an untracked part of the Wollemi in which routefinding was difficult due to the complex system of canyons which cut the plateau. We navigated by compass and frequent tree climbing to spot the lay of the land. We carried a rope and crossed the large canyons, such as the Nayook and Bungleboori, by side canyons. We were always concerned that we would get into a major canyon and not be able to climb out. That never happened although we did spend one waterless night bivouaced on a ledge half way up a canyon wall. We walked the last few miles down the Colo River and hitch- hiked back to Sydney along the road out of Colo Heights.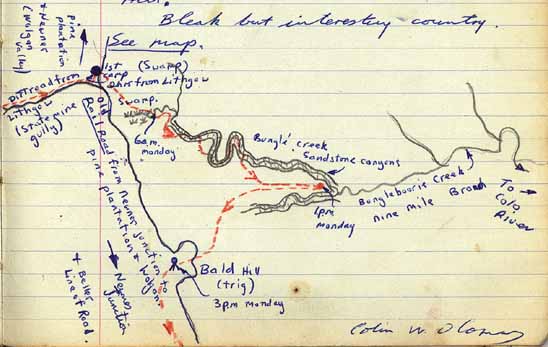 Above – Col Oloman's map of Bungleboori Creek South Branch. (From SUBW Logbook 1)
In about 1961 our access to the Mt.Tomah region was simplified by Gerry O'Byrne's aquisition of a motor car. One wet night an SUBW group (including, I think, Dick Donaghey together with Gerry and I) drove up the Bell's Line and camped in a cave above the road at the head of Lightning Ridge. The following day we walked down the ridge to a creek junction which had shown promising shadows in the aerial photographs – and found ourselves on the brink of a monstrous canyon. After some consultation we took courage and abseiled by two double roped stages into the slot. In the first stage the rope jammed and I climbed gingerly back to the anchor tree to free it. In the second stage we landed in a dark pool below a waterfall, in the maw of Thunder Canyon.
For the next three days we travelled in awe through the labyrinth of this previously unexplored canyon system, never knowing if the next turn might stop us in our tracks with a high waterfall or draw us into an unswimmable pool. In one long pool (in a sort of tunnel as I recall) we got a bad scare when Dick came close to drowning, pulled down by the weight of his boots and an inadequately waterproofed pack. Luckily, Gerry and I were at hand to help him out. We camped each night on virgin sands in dry caverns and stood naked around huge fires while we dried our gear. After a period when we thought we were in the canyoner's paradise, with the slot meandering mysteriously on forever, we reached relatively open terrain where the creek enters the Grose valley. Then we climbed up the dry ridge to Mt.Cayley and circled back along the tops (via Mt.Banks) to the road.
A while later I returned with an SUBW party which included Don Westaway and several others, to follow the Thunder Canyon creek from its head. This time we abseiled through a high waterfall at the canyon entrance. Don's feeling of being "washed away" in this abseil led us to name the falls Westaway Falls. We camped one or two nights in the canyon then found a scrambling route out on the right bank which reduced the trip to about half the time of the original. After that we made several trips down this section of the canyon and out in one day.
Shortly after our exploration of Thunder, the other canyons to the east (Claustral and Ranon) were explored by Rick Higgins and various accomplices.
My parents' home in Lithgow was a convenient jumping off place for some trips in the western part of the range and my family have fond memories of groups gathering for tea in our kitchen and sleeping before the coal fire in our living room. It was from Lithgow that I launched several unrecorded solo trips into unnamed recesses at the head of Bungleboori, Nayook and Wollangambe creeks. I expect that some of these are now regular tourist routes. Dargan's creek, which drops from the railway dams near Clarence via a short canyon into Hartley Valley was always good for a family day trip.
In 1963 I left Australia to travel and lost contact with the canyon scene in the Blue Mountains- Since then I have lived in British Columbia where Australian style canyoning is next to impossible in the fast, icy waters of glacier fed streams. Of course there are many other adventures to be had here, but some of my most fond memories are still of my friends in the SUBW and the sport we had abseiling the creeks of the Great Dividing Range in New South Wales.
"Col Oloman is leaving for Canada in mid January. When he joined SUBW the club had less than 10 members, and when he graduated in Chemical Engineering in 1960 after being President for 2 years, the club had about 50 members. Col lived bushwalking, and it's a fact that any walk Col leads is a beauty. He opened up new areas for the club and other Sydney bushwalkers, and started our current canyoning craze. Some of the places Col first led trips to include Thunder Canyon, Bungleboori Ck and the Thurat Rivulet – near Sydney – and the Tuross River further afield."
from SUBW walks program, 1963 part IV