by Roger Lembit
In 1982 a Club* party, on its way to Vanishing Falls, was climbing up from Lune River when they met three young men returning from an epic trip that started at Tahune, climbed Mt Riveaux, crossed the Pictons, went over Mt Bobs and Bobs Knobs to the Salsbury River, up to Vanishing Falls over Mts Bisdee and Victoria Cross to Mt Wylly, back to Precipitous Bluff, then along the Southern Ranges to Lune River. The story of the Club trip and mention of the exploits of that Sydney party was published in The Tasmanian Tramp No. 25. The young men found the article amusing, but commented that we had omitted one of the highlights – Mt Riveaux. Roger was prevailed upon to write the following article describing the Mt Riveaux part of their trip.
*Club means Hobart Walking Club. This article has been reprinted with permission from "The Tasmanian Tramp", the publication of the Hobart Walking Club.
We hauled our packs out of the back of the station wagon and thanked the driver. He drove off and we made our way down to the bridge over the Picton River.
"Murphy's Law worked again," growled Bob. "Fancy getting a lift two kilometres from the bridge after having walked all the way from the Hartz turn-off !"
"Yeah, and of course it had to be a hot, sunny day, didn't it," agreed Tony (Norm) as we searched for a reasonably flat site amongst the gravel at the side of the road.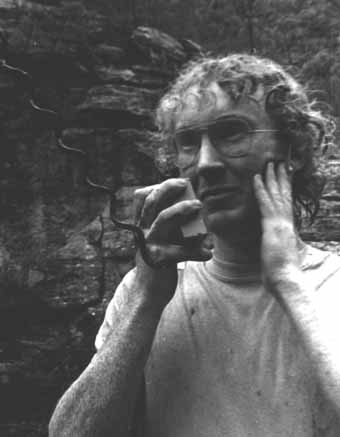 Above – Tony Norman (Norm) on a search and rescue, Colo River, 1983. Photo – David Noble
We had just hitched (and walked!) down from Hobart to start a trip which was to take us over Mt Riveaux and the Picton Ranges, Mt Bobs, Vanishing Falls, Precipitous Bluff and the Southern Ranges. The previous night, at the Sandy Bay Caravan Park, we had decided on three major objectives for the trip; Bob picked Mt Bisdee, Tony chose Vanishing Falls, and I selected Pear Hill for no other reason than it had a name.
Over the next few days we all wondered why we had chosen this unique form of masochism.
After a night of light drizzle we awoke to a reasonable day, cloudy with occasional sunny breaks. We made our way up one of the forestry roads to the slopes of Pear Hill. At an opportune point we left the road and entered the scrub.
It was fairly light rainforest-type scrub for most of the way to the top. Having had a late start we ate lunch on what could have been the summit and drank most of our water. Tony got out a copy of The Mercury he had purchased in Hobart and read the weather report. "South-west, rain developing. Well, they're not right so far, are they?"
We nodded agreement, contemplating what Huey ( the weather god) and Horrie (the scrub god) would have in store for us.
Lunch over, we headed on, initially through moderate scrub. Eventually it closed in about us and the going became slow. Thigh-high bauera, cutting-grass and tea-tree combined to offer an entangled mess which we gradually wove our way through.
By the time we broke through into a band of scoparia and stunted myrtle, and obtained a view of the towering twin peaks of Mt Riveaux, it was late afternoon. After dropping our packs we scrambled steeply up to 'bag' our points.
"It's certainly worth the four points," claimed Tony when he reached the top. There was a small cairn to mark the summit and, to our surprise, a log book. The book contained only one entry – "Bad, bad scrub – wouldn't recommend this route to anyone". The previous masochists had come down from Mt Picton – it sounded ominous.
We had another problem – we had finished virtually all our water and had to find a camp site. Bob spied a likely area in a saddle just to the south. We slowly climbed down to our packs and somehow managed to summon the energy to hoist them onto our backs. The combined weight of eighteen days' food, scrub gear and assorted bits and pieces made us wonder why we hadn't taken the relatively easier route via Blakes Opening and North Lake.
There were plenty of reasonable tent sites in the saddle. The weather was holding, so we decided to use just the fly rather than bothering to erect the tent. Now for the water.
We soon found some patches of soil that looked a bit damp, but all the yabby holes were dry. I followed these patches westwards and found some wetter soil. After another five minutes of searching, I found a small, muddy soak under a rotten log. It took a long time to convince Bob and Tony that it was the best we could find.
We decanted the oil-coloured water into our wine cask bladders. We won't have to put any tea leaves in, will we ?' grumbled Bob.
Tony decided we should try to strain off some of the mud through a handkerchief. After pouring it through four or five times, we had oil-coloured water and a dirty hanky! It was obvious we would have to convince ourselves that water was naturally black.
The tea tasted reasonable and I proceeded to prepare our evening meal. The rice was cooking well when I decided to add some spices. The combined effects of the heat and scrub must have affected my judgement because I made a slight miscalculation with the ground chillies. Actually, it was one of the hottest concoctions I've ever made in the bush. The watery, black mud had no effect so, dreaming of the icy cold canyons we had left in Sydney, we all went to bed with red hot mouths.
The next morning, as the mist swirled about the tent fly, Bob rekindled the fire. Once it had attained a respectable size, we struggled out of our bags and joined him.
"Pass the oil," grunted Bob, referring to the black ooze that now inhabited Tony's wine cask bladder.
After two cups of tea, some muesli, and a photographic interlude, we decided to head off. The clear leads finished less than 200 metres out of the saddle so we resorted to taking turns to lead for 15 minutes, with a 15 minute break after three leads. Unfortunately no one had a watch.
The cutting-grass, tea-tree and bauera prevented fast progress. The mist soon cleared to reveal a bright, oppressive sun which sapped what little strength we had. After what seemed an eternity, we reached a rocky, quartzite hill at GR710223 (Huon) and stopped for lunch. The distinct lack of water meant that the meal was restricted to cheese and sultanas.
The route ahead looked scrubby for a few hundred metres to a saddle which looked like a promising spot for water. Sure enough, on reaching the saddle, there were numerous good soaks. It didn't take long for us to shed our packs and reach for our suck tubes. The temperature would have been around 30 degrees Celsius and we gulped down the fresh, clean, cool water.
Clear leads became common after that break and, in no time, we had reached a high, open moor east of Mt Picton. There was a particularly inviting camp site next to a small tarn, so we decided to set up camp early. The views were superb and the bright, sunny weather was now a subject of appreciation rather than profanity. The moorland itself was most picturesque.
Having regained our energy, we decided to bag Picton that afternoon. We got to the summit in rapid time having no packs and no scrub to contend with. The trip back to the camp site was even quicker and we spent a leisurely evening cooking dinner (without chillies!) on the stove, wondering why we had been stupid enough to go to Mt Picton via Mt Riveaux at the start of such a long trip. We didn't come to any firm conclusions, but on reflection, after Mt Riveaux, Bobs Knobs were a piece of cake !
Huey must have finally read The Mercury because after that night, it rained every day for the next 10 days. We spent a damp New Year's Eve below Burgess Bluff and survived sleet, snow and hail on Mt Bobs for three nights.
Vanishing Falls presented an awesome sight on an overcast afternoon. Heavy, overnight rain saw the Salisbury River rise about two-thirds of a metre. Two days later, we arrived at Wylly Plateau, tired and wet. The weather cleared for a day trip to Precipitous Bluff and sunset photos on Mt Wylly. Finally, at lunchtime on the sixteenth day, we reached Lune River and civilisation.
I'm still not sure that the four points were worth it.